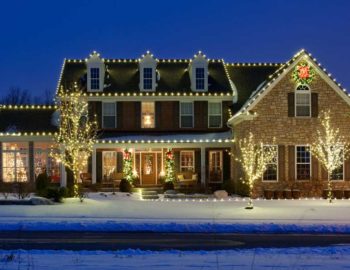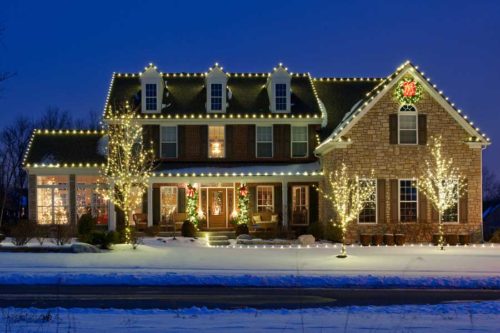 'Twas mere weeks before Christmas, when all through west Mich.,
Homeowners like me were contemplating holiday décor with a wish.
While I could easily hang stockings by my chimney with care,
I had hopes that St. Nick could get us the rest of the way there.
With visions of twinkling lights dancing in my head,
I searched for someone to do the holiday decorating for us instead.
So I called up the Naylor Landscape Management Team,
And shared my ideas, my notions and dreams.
The professionals at Naylor went straight to work
Planning and plotting and explaining their perks.
No untangling light strands in the cold while your teeth chatter,
And they guarantee you won't be in your snow gear climbing a ladder!
They provide all-inclusive service from lighting consultation to design,
With instillation, take down and storage to save me some time.
So, this homeowner said, "Sounds great, give me a quote!"
And quickly the plans for my dream Christmas landscape was wrote.
Days later the Naylor team arrived in their red trucks in a flash,
To begin to transform my home and landscape with a splash
Lights were hung from the trees for a warm cozy glow,
Using environmentally friendly LED bulbs, don't you know.
And what before my amazed eyes should appear,
But a beautiful wreath on the door to welcome holiday guests who are dear.
Their professional team got right to it, so productive and quick,
Using quality materials and décor I myself might have picked.
From rooflines and windows, to shrubs and to trees,
Their team of decorating elves did it all with such ease.
From garlands and bows, to ground lighting that shines,
I knew the envy of the neighborhood soon would be mine.
I inquired of the crew as to which territories Naylor lay claim,
And in turn each of them shouted the places by name,
"We serve Paw Paw, South Haven, Benton Harbor and Stevensville too;
Along with Portage, Mattawan, St. Joe and KZOO.
Would you like your holiday décor to be merry and bright?
Call Naylor Landscape Management, they'll get it done right.
Did you know that Naylor Landscape Management is an authorized Christmas Décor dealer?
November may have just landed, but with snow threatening in the forecast, sleigh bells and St. Nicholas can't be too far behind. Hold on to your trapper hat, 'cause Christmas will be here before you know it. That means it's time to start thinking about getting your "Griswold" on when it comes to your home and landscape.
Rather spend your time shopping for the perfect gifts for your loved ones, baking delicious holiday treats and sipping hot cocoa by a toasty fire? Go ahead and enjoy the season. We'll take care of all the details with our award-winning décor service.
Not sure where to start? Check out the Christmas Décor gallery then connect with us for a quote!