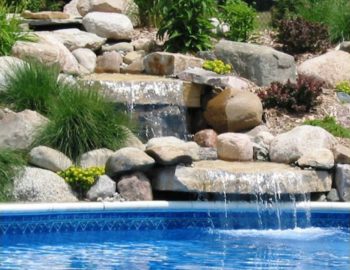 As homeowners, we take on projects to make our spaces more functional. To make our homes aesthetically pleasing and more "us." And, let's be honest, to increase our home's value. We know that if we update a bathroom or a kitchen, for example, we're going to see a sizeable return on investment. The return on updates on the exterior of your home are often trickier to quantify in relation to money spent. The truth is, a well-maintained landscape will boost your curb appeal and add value that will continue to increase as trees and plants grow. Here are some ideas from the simple to the sublime that offer some bang for your buck.
Plant Some Trees
Who doesn't love a beautiful tree? Mature trees add to a property's perceived value. They are one of the few things that will increase in value over time, as everyone appreciates a home with lush, mature trees. The advantages to having in trees in your landscape don't end there. They screen out undesirable views and offer privacy. They can reduce street noise. They can save on energy costs of both heating and cooling when planted on the south and west sides of your home. They help us breathe easier by taking in carbon dioxide and emitting oxygen through the process of photosynthesis. During a heavy rain, the canopy and root system of a tree will act as both a sponge and a filter, cleaning the water as it seeps into the water table and reducing storm water runoff.  And as we know, the colors of the trees turning in the fall can't be beat. While large trees are most desirable, they can be costly. No need to go big or go home here. Research which types of trees will thrive in your environment and plant smaller ones if that's what fits your budget. They will grow, after all.
Create an Outdoor Living Area
Though we may have a shorter season to enjoy our great outdoors, there truly is nothing quite like a Michigan summer. Create an outdoor oasis as an additional living space for relaxing and entertaining. A deck or patio are both good investments, and there are a variety of materials offered in a broad range of prices for every budget. A water feature offers soothing sound to take away the stressors of the everyday. Running water also offers the advantage of masking sound. Create a stream, a pond, a waterfall, or simply add a birdbath to your back yard. Water features encourage birds, butterflies, and insects that help with cross-pollination into your yard. A fire pit is another popular option. It adds visual interest, provides warmth and is a great gathering space when entertaining. What's not to like about s'mores made in your own back yard?
Take Care of Your Lawn
A beautiful yard is the definition of curb appeal. If your lawn is green, plush and beautifully manicured, it would make sense that the interior of your home would reflect those same standards. Treat your lawn with affection and it will pay you back in spades. Fertilize, aerate, weed and rake. Get your mowing done on a regular schedule. Edging will make your lawn appear tamed. Those crisp edges along the sidewalk, driveway, and garden beds present a low maintenance look. Add a fresh layer of mulch to your garden beds. It will help to conserve water, shield your plants' roots from temperature extremes and discourage the growth of weeds. It adds color and textural interest to your landscape, and gives it a neat, uniform appearance.
Plant for Low Maintenance
While annuals are beautiful, remember that they will need to be re-planted every single year. A better option is to check out the wide varieties of perennials at your local garden center. Once planted, they will continue to grow, and even better, come back year after year. Saving time and money sounds appealing, right?  Something else to think about – native plants. These are plant varieties that are original to our area. These varieties tend to be lower maintenance. They are hardier and less susceptible to pests and disease. They grow well and require less care. You'll use fewer pesticides and will water less. A nice bonus –  the right native plants will attract birds, and butterflies to your gardens.
Have a Master Plan
Perhaps most important in creating a lovely and functional landscape is coming up with a design plan. It's easy to get carried away when you're at the nursery or garden center and just start buying every plant, pot and decorative accessory you fall in love with, but trust us, you'll be better off starting off with a solid idea of what you want the end result to look like.  A disorganized mishmash of ideas can actually detract from your property value. You want your yard to have a cohesive look, one that is well thought out and takes into consideration your unique yard and style. And remember, everything does not need to be done at once, so it's okay to pace yourself. Sometimes it's better to plan one or two projects at a time and give yourself time to see how things grow and develop over time.  And if you need help, a landscape designer can be your best friend and a great investment. Landscaping is an art form, so don't be afraid to give us a call to help make your outdoor dreams a reality.