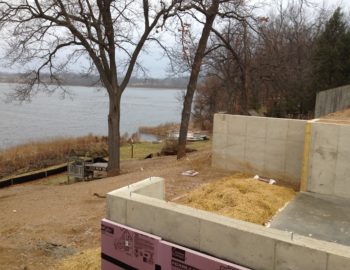 One of the most rewarding parts of our job is bringing function, beauty and delight to a client! This family in Delton, Michigan had just finished the construction on their brand-new lake house and were ready to get started on making their backyard a bit more user-friendly.
As you can see from the pictures, they were working with a pretty steep hill right off of the deck and down to the shoreline. The challenge was to convert it into usable flat space while still providing easy access to the yard and lake. The homeowners really like the wall stones on the exterior of a retail store in the area and asked us to incorporate the same look. Our team of landscape experts—designers, engineers and installers went to work and came back with a plan that brought form, function and beauty to this backyard…all within budget.
The team designed and installed the patio, retaining walls, steps, landscape lighting and plantings. Our friends at OIK Industries hand-crafted and installed the stair railing. After pricing the wall stone the client really liked from the local retail store, it exceeded the budget. Instead, the team came up with a smaller, chilton wall stone product with large outcroppings to create the same look and feel.
After that was installed, the patio and stair landings were finished off with a beautiful bluestone.
—
What headaches do you have when you look at your landscape? Connect with our team so we can talk through a brilliant solution.