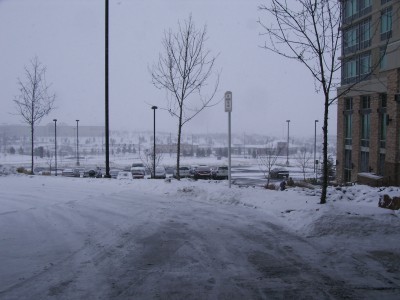 This year's first flakes of snow have started falling and it's a sudden reminder that winter is here. While it brings with it the joys of the holiday season, it also invites the familiar woes of snow removal, pavement salting and sidewalk clearing. We all love a white Christmas but, for the most part, people agree that a white November, December and January can be a little much. Thankfully, Naylor Landscape Management has you covered! With a range of snow and ice management services, we can keep your property's driveways, parking lots and sidewalks clear. Let's take a closer look at the services that we offer…
Snow Plowing
If you've arrived at your place of business and find the parking lot completely clear of snow and ice, you can rest assured that the staff at Naylor has been up all night making sure your lot is safe for all employees and clients.  With a fleet of snow plows and salters capable of clearing your parking lot efficiently, we can get your business open in no time.
Snow Hauling and Stacking
If you're losing space on your property due to massive piles of snow that never seem to dissipate, we can help by hauling it offsite or moving and stacking it in a more convenient location onsite.  Don't force visitors to park 100 yards away, call Naylor and let us clear the area, haul away, move or stack the snow and allow you to use 100% of your property.
Sidewalks
Every year, countless people injure themselves by falling on snowy or slick sidewalks. We can help you mitigate this risk by removing the snow and salting your sidewalks and walkways.
Salting
One of the best ways to prevent snow and ice from accumulating is by adding a layer of salt to a freshly plowed or shoveled area. In addition to snow removal, we always recommend salting as a part of our snow and ice management services. Salting can removes any remaining ice and snow and prevent future build-up. Salting also prevents the bonding of ice and snow to your pavement allowing it to be more easily removed by plows, shovels and snow blowers.  This makes snow removal process more efficient and safer. With all parking lot salting services we add a special brine (a proprietary blend of water, salt, magnesium chloride and carbohydrates) to our road salt before it is applied to your pavement.  This brine allows us to use less salt because it activates the salt more quickly and allows melt snow and ice at lower temperatures.  When we treat our road salt with brine it also reduces our net chloride usage by more than 50%.  This makes it safer for environment than untreated road salt, less harmful plants and less corrosive on cars and infrastructure around your parking lot.   When salting your sidewalks we use a special 4 way blend that has all the same benefits as our treated road salt, but it is even more effective and safer to use. This 4-way blend is effective to -20 degrees Fahrenheit.