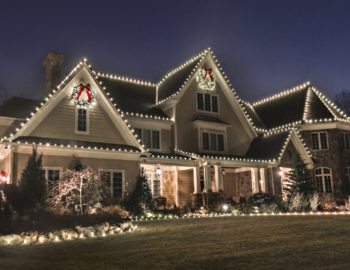 A dark landscape can set a particular tone that's uninviting for the home. Even after the holiday's are over, it doesn't mean you have to remove all the lights outside your home! In fact, adding strategic outdoor lights around your home can make all the difference.
Landscape lighting is a project that requires an eye for design, and understanding of proper lighting. You might be thinking, "I can do this myself. I don't need a professional to install a few lights around the house," but really you do. Not only does landscape lighting look far better when it's done professionally, it's also less expensive. It's imperative to find the right lighting and design so that your home and your landscape is highlighted and always feels safer.
Why Use Landscape Lighting?
Help enhance the appearance of your home
Brightens up your home
Upgrade the safety of your property
Create a resort-like feel of your outdoor areas
Help increase the value of your home
Reduces insects
Enrich the beauty of your existing architecture and landscaping
Outdoor lighting reduces the risk of burglary
YOU get to choose what style, design, and lighting needs with your budget
The Beauty of Landscape Lighting
How much more appealing is it for your guests to get out of the car when there is landscape lighting illuminating the path to your front door instead of just a front porch light? You will be more confident where you are walking as well as your guests.
Using up-lighting can create a very dramatic effect in the evening making it appear more elegant and beautiful. By lighting windows, solid walls and even tree trunks and other foliage, you can create an elegant appearance at night, making your home appear more aesthetically pleasing and more enjoyable.
While landscape lighting isn't something you see on the many list of things that add value to a home that you might eventually sell, you can safely assume buyers are going to appreciate having it. It is not uncommon for buyers to check out homes after work in the evenings when the lights go on; and it might enhance their opinion of your home.
What Naylor Offers
As a professional landscape design company with lighting expertise, we offer our knowledge and experience to help our clients with their dream projects. We want to help you cross another item off your to-do list!
Our lighting experts would be happy to help you make your landscape shine. Contact us today (269)375-0084.