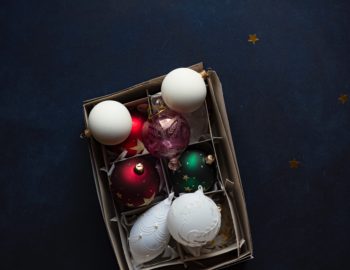 Tips to Store your Holiday Décor
Chances are that transforming your house from the everyday to a Christmas wonderland is an exciting prospect. The putting up in anticipation of the holiday = fun. The taking down, not so much. While you may be dreading this process about as much as the seemingly endless frigid winter months that lie ahead, know that there are advantages to organizing and storing your holiday décor properly now. You will surely reap the benefits next year when you're starting the process all over again. Here are some wise ways to keep your tinsel (and everything else) from getting in a tangle.
1. Holiday Linens
The first thing you should do before packing those linens away is to clean them, as any food or drink spills will oxidize over time and create permanent stains. You can imagine how appalled Great Aunt Gertrude would be to see last year's gravy on her antique table runner at the family Christmas party. Store linens in a climate-controlled space, which means that the attic and garage will not cut it. Once you have cleaned your festive napkins, tablecloths, runners, towels, blankets and pillows, keep moths away and linens smelling fresh by tucking a lavender scented dryer sheet or two in the folds. You can fold neatly into a storage bin or stack on an unused shelf in your linen closet. You can hang items on hangers and cover with a plastic bag or garment bag. And yet another option–keep linens safe from moisture, mold and dust by storing them in a vacuum storage bag. Whichever method you choose, know that when you pull these items out next year, they'll be ready to go (without any holes, stains or musty scent).
2. Wreaths
There are plenty of options to store wreaths. If you're putting them into a container, the most important consideration is that it is large enough to preserve the shape of your wreath without smashing it out of shape and wrecking the bow or any other ornaments attached. If you're doing so, start by stuffing tissue paper into the loops of the bow to keep its shape. Wrap any other ornamental accents with tissue to protect them as well. Another option would be to hang wreaths to store. Slip the hoop of the wreath over the neck of a coat hanger, then cover with a zippered garment bag or plastic dry cleaning bag to protect from dust. They can then be hung in a closet or in the attic. You could also invest in a garment rack and utilize it for hanging both wreaths and linens.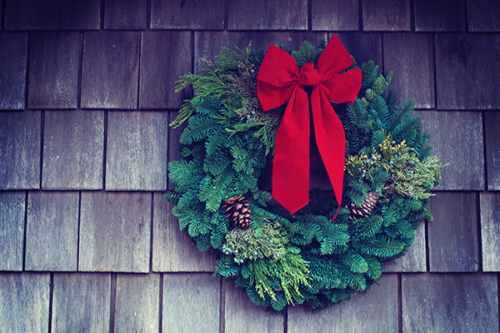 3. Christmas Tree
A good quality artificial tree can be a significant investment, but can last for years if cared for and stored properly. The box the tree came in may seem like the best option for storage, but it can be less than ideal. The cardboard will eventually start to deteriorate and could be an open invitation for pests or mold. There are a wide variety storage options available, you just need to determine what will work best for you and the size of tree you own. If you don't mind taking the tree completely apart, you can put each section, top, middle and bottom in heavy duty plastic storage bins, making sure to label each one for easy re-assembly. A bag that rolls, like this one is great for a larger tree and can be moved easily. A storage bag like this is strong and durable and will hold up to a 9-foot tree disassembled and has handles for easy carrying. For a really fuss-free option, try this storage bag with stand that rolls. Just put your tree in, carefully tuck in all the branches and stow if away until next year. If you have a pre-lit tree, make sure there is no undue stress on the strings of lights when packing to prevent electrical damage. No matter how what you put your tree in, store in in a cool, dry area away from sunlight to keep your tree beautiful for years to come.
4. Christmas Lights
If the thought of opening the bin where you store your holiday lights makes you break out in hives, you need to find a better way to store them. First things first, avoid some frustration next year by finally discarding any light strands that aren't working. Then, once and for all, get rid of that massive, messy clump of various intertwined strands of lights with some clever organization. Use a piece of masking tape and a Sharpie to label each strand whether by length or where it is used in your décor. Wrap individual strands around an empty coffee can, Pringles can, a piece of cardboard (about the size of a shoebox lid) or even a hanger. Place in a large box, bag or container for next year. Or go all out and purchase a few of these light storage bags that have reels inside to wrap strands around, preventing breakage and tangling. As with most other Christmas décor, lights should be kept away from places with extreme temperatures and humidity. They can harm the filament of the bulbs. Proper storage can guard against mice and other critters, preventing them from chewing on the wires and ruining an otherwise perfect strand of Christmas lights.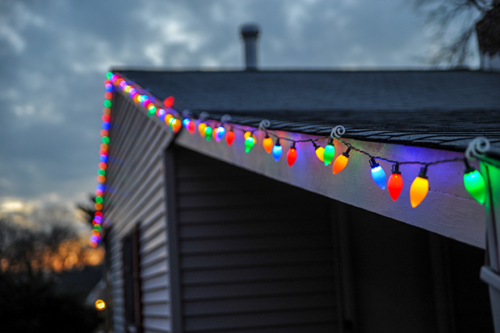 5. Ornaments
Any fragile, oversized or special ornaments are best stored in their original packaging, if possible. The box the ornament came in may have styrofoam or other packaging materials that offers the best protection for that item. Reuse and recycle! Smaller ornaments can be stored in clean, dry egg cartons. Larger round ornaments fit well in plastic apple containers. Use plastic storage boxes. They are sturdier and stack better than cardboard and will last years longer. Buy them in a uniform size for the best stack-ability. Wrap each ornament individually in white tissue paper and fill any empty space to prevent excess movement. If you are pressed for time and don't like the idea of wrapping each individual ornament, try lining the bottom of a box with shredded paper. Place the ornaments in the box and add more shredded paper on top. This will prevent ornaments from moving around, as well as eliminate the need to wrap each individual item.
6. Candles
Candles can be an integral part of holiday décor. As it can be expensive to purchase new candles each year, take care to store them so they can be used again and again. Ideally, they should be stored away from heat to prevent melting. Wrap candles in old socks or knee-high stockings to prevent candles from getting scratched or damaged and keep them dust free. Avoid wrapping in plastic wrap or waxed paper as they can easily stick to candles if they get warm. Nestle them in some tissue paper to prevent dents or scratches, and stow them in a box or plastic container or bin away from heat or pressure to avoid melting or warping the wax.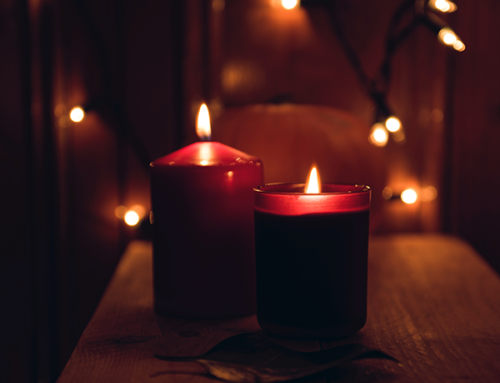 Pro Tips:
Take pictures of your décor before taking it down to make it easier to place things next year. You can store the photos on your phone or computer and pull them up when you need them.
Before you pack anything, go through your décor and purge what you no longer use—donate or give away.
Use labels liberally. List what is inside each box. Place labels on a side of the box or container that will be visible even when stacked. Label each box by room and décor type.
Place garlands in a clear plastic bin, making sure it doesn't get tangled by fitting it so it coils neatly inside the container. Any additional adornments that go with the garland should be wrapped in tissue and stored in the center of the container.
Wrap table decorations in several layers of tissue, laying the items on their sides and store in a plastic bin. Wrap fragile items in bubble wrap. Fill extra space with crumpled newspaper to prevent items from shifting.
Christmas décor is often made up of a combination of family heirlooms, lovingly handmade pieces and carefully chosen store-bought treasures. No matter where your items came from, they all deserve some TLC. Take the time to properly store and organize your holiday décor as you pack it all away. Trust us, you'll be thanking yourself next year.