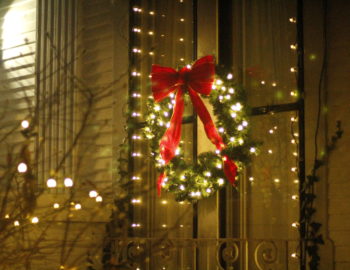 It's been a wonderful year at Naylor Landscape and we're paying it forward by giving back to this incredible community! For the last six weeks, our team has been dreaming, designing, planning and installing a beautiful outdoor holiday display. Partnering with the Hospital Hospitality House of Kalamazoo, we set out to help create a warm holiday environment filled with comfort, joy, love and all the great feelings of Christmas.
For many chronically-ill patients and their caregivers, this time of year is more about the stress of survival than sentiment. Every hour, day, week and month of the year, Kalamazoo's Hospital Hospitality House is fully staffed and warmly welcomes non-local caregivers and families of patients admitted or being treated at Bronson, Borgess or the West Michigan Cancer Center. Whether it's a new mom from White Pigeon, Michigan with a baby in the NICU, the family of an ill business traveler from overseas or a patient requiring daily dressing changes following a severe burn while on vacation, the Hospital Hospitality House is committed to providing a warm, comfortable, home-like atmosphere where caregivers can rest. In the words of the House's Executive Director, Judy Markusse Paget, while the hospital focuses on caring for the patient, they focus on caring for the caregiver.
Only scheduling guests up to 24 hours in advance, families and caregivers are referred to the Hospital Hospitality House by social workers, case workers and even sometimes hospital chaplains. Whether they visit for a hot shower, clean clothes and a home-cooked meal or stay for weeks, the House provides food, shelter and support during difficult times. 
Four years ago, the Hospital Hospitality House board and staff started planning an incredible strategy to better accommodate guest's needs. Right now, the current home on South Street can sleep up to 19 people at one time. However, there are hindrances to who can stay based on the physical limitations of the home. As an older building, there are no elevators. If a patient or caregiver isn't able to handle stairs, there isn't another option for housing. Additionally, since bedrooms are large, guests are not promised a private room or bathroom, meaning if occupancy increases, they may be asked to share their room with another person of the same gender. 
The organization's campaign is impressive—announced earlier this year, a $4 million public campaign focuses on building two cottages near the campuses of Bronson Methodist Hospital and Borgess Medical Center so family members of hospital patients are able to stay close by and support patients during recovery.
Coming to a heroic rescue, members of the Home and Building Association of Kalamazoo rallied together and have donated supplies and labor to build one of two brand-new Hospitality Houses. Breaking ground this past May, the first cottage is located on Henson Avenue, next to Borgess Hospital. While the facility is set to be completed in 2017, the need remains to complete funding for the additional cottage. Currently, the Hospital Hospitality House has raised $3.4 of it's $4 million goal.
As the year comes to a close and we celebrate the blessings of 2016, we encourage you to join us in supporting the Hospital Hospitality House in whatever way you can. Since we're pros at outdoor holiday décor, that's how we showed our love to them. For you, it may be contributing supplies or making a monetary donation. There are variety of ways to support this incredible community organization:
Wish List (supplies needed for current and future guests)
---