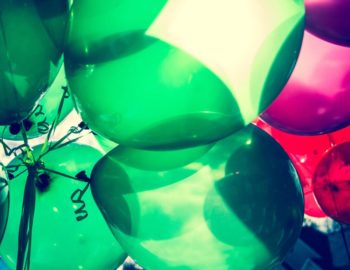 Summer is finally here and the weather is amazing! Time to throw together a casual, relaxing get-together to celebrate with family or friends. What makes for a stellar party? One that is fun and comfortable for your guests and easy on the host – you deserve to have a good time too! Follow our tips below to get your party started.
Set the Date and Create a Plan
First things first, you need to set a date and time for your party. How many people are you inviting? Will children be included? Are you planning on a theme? Sending your invites out at least three weeks in advance gives your guests enough notice to work your shindig in amongst their other summer obligations. Invitations can be whatever suits your fancy, from an evite to a handwritten note to a printed invitation sent in the mail, it's your choice. It's essential to include an RSVP so that you will have a good idea of how many are coming; you are planning to feed these people, after all. Follow up with any outstanding invitees a week before the event to get as accurate a count as possible. Need a comprehensive checklist to keep you in line? This party planning checklist includes all the details to keep you on track while planning your summer soiree.
Atmosphere
A comfortable place for your guests to sit, eat, drink and socialize is a must. Chances are, because it's summer, your party is going to be happening outside. Get your yard in order. Make sure the lawn is mowed, raked and free of debris, tools and toys. Don't overlook places in the house where guests may be, like the entryway, kitchen and bathrooms, making sure they are clean and company-ready. Spread out the festivities. Set up a sitting area, dining area, buffet and drink spot across your outdoor space to keep the flow of the party going. Have plenty of seating available for your guests. If you're short on tables or chairs, renting is an inexpensive option and often includes drop-off and pick-up. You can also ask friends and neighbors if they have these items available to borrow for your event. Or you can always turn your party into a picnic and spread some comfy blankets on the grass along with some poufs or pillows for seating.
With décor, you can go as simple or as crazy as you desire. To keep the casual feel, use brown paper to cover your tables. Add some colorful markers and guests can doodle away. Cleanup will be a snap. Incorporate nature into your tablescape. Keep centerpieces au natural with flowers or greenery in empty wine bottles or mason jars. A fun and functional condiment display set on each table makes these essentials within easy reach for everyone. Find a few ideas here, here and here.
Help your guests prepare for the hot sun and pesky mosquitos. Create a spot to house a basket filled with sunscreen and bug spray accessible to everyone – like this. Display away from food and drink, of course.
Plan for trash and recyclables. Set up baskets or pop up hampers with trash bag liners to keep everything clean and contained. Be sure to label clearly.
If you expect your party will still be going strong after dark, be sure to plan for some ambiance. String white party lights along your deck, fencing or in trees to light up the night and provide a cozy atmosphere. Yes, your white Christmas lights will work just fine here. Hang lanterns on sturdy tree branches. Use tea lights in mason jars on tables. Want to stay away from flames? Use battery powered candles in clusters on the deck or patio, on tables and in seating areas for a warm glow.
Music is great to set the mood. Use a cordless Bluetooth speaker and choose music that will be entertaining and pleasant, not too loud or overwhelming. If you're putting together your own playlist, make sure you have enough hours of music planned so that the same songs aren't on constant repeat.
Serve Great Food and Drink
Try to remember one thing when it comes to food; keep it simple. It's easy to become overwhelmed and create a menu to try to please every taste, but it's not necessary. Try to avoid dishes with a lot of ingredients or that require a lot of preparation time. Fewer ingredients means fewer items to buy, and simplicity means you can spend more time with your friends, rather than spending time making them food. Grill a few meats as a main course. Throw in a few easy sides like veggie skewers or corn on the cob. Try this easy method when you're entertaining a large crowd. One of the first things guests tend to do when they get your invite is ask what they need to bring. Don't be shy – let them help out with the menu by providing a side dish. You'll get a large variety of items and a lot less stress. Keep dessert on the easier side as well. If you have a fire pit, grab some sticks and roast marshmallows for s'mores. Or help your guests cool down with an ice cream station. You can scoop individual servings of ice cream in advance into small cups and set them out with a variety of toppings. A set up like this one looks great.
It's summer. It's hot. You're going to need to keep your guests well-hydrated. Make it easy for guests to serve themselves drinks. It's your party and you deserve to relax with a drink in your own hand and not have to play bartender all night. Set up a drink station in an area that makes it easy for your guests to grab and go. Throw bottled water, beer and wine in coolers, plastic bins or galvanized tubs with lots of ice to keep it cool. With ribbon, tether an opener to a handle of each bin; and drape a dish towel nearby to take care of condensation Expecting pint-sized guests? Throw juice boxes into the mix or prep a kiddie punch in advance – a fruit-spiked lemonade is a great choice – mix it up in a beverage dispenser, add some plastic cups and you're good to go. Here's a great drink calculator to help you figure out what you'll need, depending on the number of guests you're expecting. See it here.
Fun and Games
Games are an easy way to get people out of their seats and mingling with other guests, and they're a great way to get the kids involved.  Anything goes here, so pull out your yard games like ladder ball and cornhole, or classics like bocce and croquet. Set up badminton, volleyball or whiffle ball and get those competitive juices flowing.
Make a DIY photobooth. Buy or create a large picture frame. Hang it from a tree or create an area to invite your guests to take silly selfies and make fun memories, like this.
The weather is warm and the days are long, making summer the ultimate time for outdoor entertaining. Put together a guest list, plan a delicious menu, a specialty drink and some fun activities. There's no time like the present to throw a summer bash.