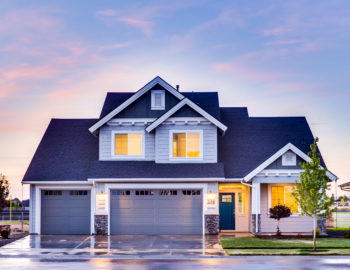 Everyone is familiar with the old adage, "you never get a second chance to make a first impression". It's not only true for ourselves but applies to your home as well. That impression is known as curb appeal, and it makes a huge impact on how your house is perceived. Most of us really pay attention to the curb appeal of our home when we decide to sell, but why not have the best looking house in the neighborhood every day?  It's time to stand out in the street and take a good look at your house and determine if your home's exterior is saying what you want it to. These last few months of winter are the perfect time to assess the current state of your home's curb appeal and plan a few easy projects to create big impact come spring.
Small changes are the name of the game here, allowing you to enjoy the view every time you pull into your driveway. During your initial assessment, take a complete look at your property. Make note of any repairs that are needed. Look at the landscaping – are there any plantings that need to be trimmed or replaced, edging, weeding or pruning that could spruce things up? Also consider things like a receptacle for your garden hose or an out-of-site location for your trash cans. This would be a great time to get out that power washer to clean away the winter dirt and grime to reveal your home's true identity.  Now on to the good stuff, a few easy, cost-effective ways to add panache to your place.
Front Door
Your front door can add a lot of personality to your home. Start with a pop of color. A fresh coat of paint in an unexpected color can easily be the statement piece of your home. Add a wreath or swag for color and texture. Not the wreath type? A cool new doorknocker can add high impact. Consider a new lockset. Throw down a fresh new welcome mat and you're good to go.
House Numbers
There is nothing worse than driving around looking for an address and there are no house numbers in sight. Adding easy to see house numbers not only help others locate your address, they are also a simple, inexpensive update that can add lots of style. The possibilities are endless here, in both font style and materials. Consider your houses' personality and choose a number style that harmonizes, or consider a customized plaque instead.
Make Over Your Mailbox
Sure your mailbox is a receptacle for correspondence. It also happens to be one of the first things people might notice about your home since it is usually located front and center at the curb. Like the front door, consider a fun color here, or take a simpler approach, and paint the post to match or complement your home's exterior. Add house numbers, making sure they are visible to passers-by. Utilize a touch of landscaping to up the wow factor, with colorful flowering plants or a nice rock garden with a bit of greenery.
Outdoor Lighting
Nothing says warm and inviting like outdoor lighting. Install solar lights to illuminate a walkway. Add some up-lighting to highlight a beautiful tree. The addition of lighting to your landscape not only looks good, but it adds to the safety and security of your home. Looking for a quick, stylish update, just change out your porch lights. Consider the style of your home when choosing new fixtures. Hang a pendant in your front entry, flank the sides of your door with sconces, or install a flush mount fixture if low ceiling height is an issue.
Add a Container Garden
A few well-placed pots with beautiful flowers or greenery can do wonders for your porch, front step, or walkway. They add a welcoming feel to your exterior and they are very affordable. Another idea to add charm to your exterior is the addition of window boxes. Add a box or two to a fence, or under windows to add character, color, and texture. They come in many types of materials, from wood to copper and iron. Make sure to consider flowers and plants that will do well in the lighting situation you have and that they are located in a spot that makes watering easy.
Add a Bench or Seating
Seating on your porch or added to your landscape is welcoming. It invites others to come and relax. Consider a rocking chair or two or a colorful Adirondack. A bench can provide seating and some offer storage as well. Make sure to add a couple of comfy pillows for texture and interest, and consider a small table or garden stool for refreshments.
So many of these ideas deliver huge impact with low cost and little time. Plan ahead now to knock a few of these home-enhancers out when a nice weekend hits. Don't be surprised when the traffic slows in front of your house to check out its' enhanced aesthetic appeal.