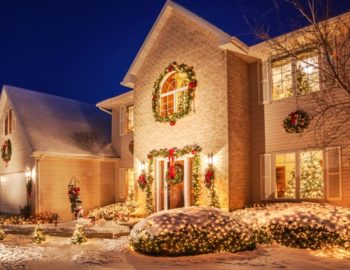 Christmas lights are a simple way to illuminate your holiday spirit and others around you! Now that you've finished your fall clean up, you can now showcase your spirit of the season with holiday landscaping. Here are some holiday landscaping tips to bring your home to life this season:
Focus on the 5 Key Elements
Before you go outdoors to decorate, develop a plan and design! A helpful tip for beginners is to take a photo of the outside of your home then take it to your local store to buy your decorations and lights. Keep looking at the photo while you go through the store so you can plan where you want things. This will minimize purchasing things you won't use and save you time returning. If you focus on these 5 key elements your house will stand out in your neighborhood!
Roofline
Adding lights to your roofline and gutters of your home will provide an elegant look so many people are looking to see in a lighting display.
Windows
Frame focal windows to add more interest and detail to the design of your home. Put in some evergreens in window boxes and add ornaments on top of the evergreens to add a spice of holiday.
Ground Décor
Add lighting to your pathway and driveways! It is bright, eye catching and helps your company safely navigate to your front door at night.
Trees & Shrubs
When selecting which of your trees and shrubs to light remember that they should frame the focal point of your home. They can provide balance to your overall display. Using different patterns of lights will help compliment each other.
Daytime Décor
Many people forget to add daytime elements! Adding garland, wreaths, and festive bows can give your home a welcome feel before the sun goes down. Placing a Christmas wreath on the front door or mailbox is a simple way to add character!
Naylor Landscape has been designing and installing beautiful Christmas Décor since NEED YEAR. If you don't have time to decorate your home this year, let us do it for you! Call 269.375.0084 today or visit our Christmas Décor web page for more information or to request a quote.