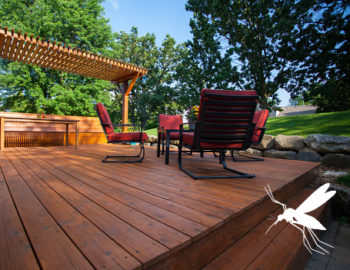 Nothing ruins relaxing on the deck faster than that familiar buzzing we all despise! Our recent and increasingly warmer evening temps have made those blood-thirsty buggers fully active. Expect mosquitos to be out in peak numbers over the next two to three weeks. We all know to keep standing water away from our homes, but did you know there are plants we can incorporate into our landscaping that can help deter mosquitos!?
Here are a few mosquito repelling plants:
Basil: This herb tastes great in your favorite dishes AND doubles as a bug repellent. Pesto anyone?
Marigolds: These annuals not only discourage many pests their natural insecticides!
Lavender: This small shrub has a pleasant scent that we love, but the bugs hate. Hang some dried in your closet to deter moths or drink as a tea to promote relaxation.
Lemon Grass: This grassy clump grows 3-5ft and can help in controlling mosquitoes. An annual in Michigan, it can be used in cooking and add a cool vertical element to your yard.
Mint: This hardy perennial smells and tastes great to people, but bugs and mice hate it! It can spread quickly in the garden so care must be taken when incorporating it into your yard.
Using these plants in your landscaping design or in pots adds flavor and fragrance to your yard AND can give you some relief from mosquitoes! We'd love to discuss your seasonal landscaping priorities and offer up some tasty suggestions for your yard; from herb gardens and sweet smelling perennials, to positioning plants to deter annoying pests, NLM has got the info!
Scheduling now, so call us for a consult! #getgrowing  #naylorlandscape  #michiganlandscaping  #herbs