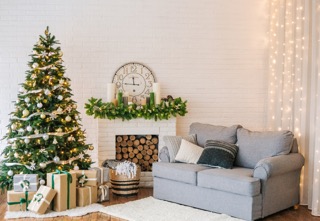 Selling your home over the holiday season can seem very challenging. The chilly, wet weather and falling leaves might mean more raking and shoveling to keep your home pristine. However, the winter weather and dark skies don't have to ruin your holiday cheer! The holidays are a perfect time to showcase the warmth and character of your home to prospective buyers. Are you ready to follow these six DO's to create an appropriately festive home for sale?
DO Choose Appropriately Sized Holiday Décor
Be thoughtful about the size of decorations you use. A good question to ask yourself is whether the piece helps to positively showcase the space, lighting, and personality of the room. Your goal is to be festive while honoring the value of your home. Large trees and decorations, while make the room very festive, may make the room appear smaller.
DO Mind The Light
Be sure your holiday décor efforts don't block any natural light from windows and doors. For the selling season, try placing your holiday pride far from the window. You might put décor outside your front door or, if inside, in an unobtrusive corner. If you must locate décor near a window, then place it far enough away that the natural light still flows in. Otherwise, by reducing the natural light, you'll detract the value of the room.
DO Coordinate With The Colors Of The Room
Maintaining a color-coordinated design scheme matters, even when all you want to so is deck the halls in red and green. Every room of your home should be as appealing as possible to prospective buyers. So, if your holiday decorations clash with the colors in your room, try to think creativity to add holiday accents without throwing off your palette! Using metallic's are one non-intrusive way to add a little holiday flair. Gold, silver or copper holiday accents pair well with almost any color scheme.
DO Decorate To Showcase Your Home's Architectural Features
Holiday decorating can give you a great opportunity to highlight your home's most attractive features. For example, you might wrap a tasteful garland around a beautiful curved staircase. You can showcase your fireplace with accents such as knitted stockings or a strand of lights. Try not to cover up any valuable structural details! Remember, less is more when staging.
DO Use Exterior Décor To Add Curb Appeal
Holiday décor is a fantastic way to spruce up the exterior of your home and add some color. Try hanging a wreath on your front door or a box on a mailbox! These elements will certainly add curb appeal and pleasantly welcome your potential buyers.
DO Celebrate The Holidays & Creative Warm, Joyful Feeling
If you do all of these steps correctly, your residence will exude a positive energy and charm that cant be felt at any other time of year. Your decorated home will offer the kind of warmth for a potential buyer that will help them imagine living there.
If you are selling your home this holiday season, remember to not stress too much and to enjoy what could be your last holiday season in that home. Not sure where to start? Check out the Christmas Décor gallery on our website or connect with us for a quote!