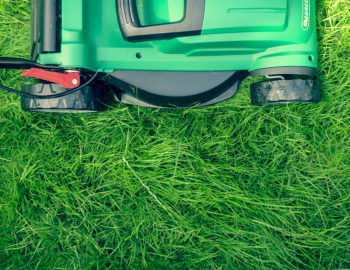 Summer lawn care is about keeping the grass healthy while temperatures soar and rainfall becomes a fleeting memory. It's also about maintaining a lawn that can withstand all the barbecues, games, parties, and running feet that summer has to offer. Many lawns seem to bake in the heat but then you look around and you'll see one or two in the neighborhood that look as green as can be. Here are some tips for keeping your lawn in shape over these long, hot days of summer.
Feed Regularly
Within 6-8 weeks of feeding, microbes in the soul have processed most of the nutrients for your lawn to absorb. You then need to replenish these nutrients with another feeding. A well-fed lawn grows in thick, crowding out weeds and cooling the soil, which helps it handle the intense summer heat. However, applying extra fertilizer in the heat of the summer can burn your lawn and create a flush of tender growth that will struggle in the hot summer weather. Never fertilize dormant lawns. Wait until they green up in the fall to feed again!
Mow High
Raise your mower blade in the summer! If you cut your grass short, you're shortchanging your lawn. Longer grass allows the growth of longer roots, which can reach down for moisture even on hot, dry days and helps shade the earth to prevent weed seeds from germinating. Just set your mower on one of the highest settings and keep mower blades sharp to minimize the stress of your grass during hot temperatures. You'll be surprised what a difference this simple step can make.
Watering
Hydration is essential to the growth and nutrition of your lawn. If your grass has been cut short all season, you're going to have to water more frequently. But even longer grass needs moisture. So if you choose to water during a dry spell, be sure to water deeply and infrequently. Frequent, shallow watering encourages grass to grow short roots, causing the grass to stress out during droughts. An inch of water a week serves as a good rule for keeping your lawn green during the hot summer. Just be sure to water as early as possible in the morning, between 5AM and 9AM, to help reduce wasteful evaporation.
At Naylor Landscape, we have services in Lawn Mowing, Edging, Lawn Fertilization, Weed Control, Aeration, Lawn Renovation and more! We would be glad to answer any questions you may have about lawn care or how we can assist you with our services! Call us for more information and a lawn consult! #BeatTheHeat #NaylorLandscape #LawnCare