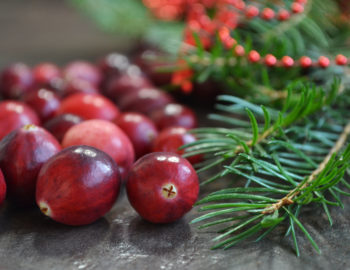 Need to keep the kids busy while you finish up some last minute "elving?" Share some holiday cheer with your furry and feathered friends by creating these fun (and edible) outdoor decorations. Feed wildlife and spruce up your landscape at the same time!
Edible Garland
Putting together an edible garland is easy. You will need yarn, string or twine to hold the garland. Be sure to avoid fishing line or dental floss, as they are hard to see and could create a tangling situation once all the food has been eaten. You will need to use a needle with a large eye. It also need to be strong enough to pierce the foods you will be using. An upholstery needle is a good option. You may want to use a thimble to push the need through foods or use a thin, sharp awl to create holes. Next, gather your ingredients! A variety of foods can be used. Some great options include:
Apple or banana slices
Melon rinds
Fresh grapes – can be whole or cut in half
Plain popcorn – no salt or butter, preferably air-popped
Slices of citrus fruits
Fresh, uncooked cranberries or other types of berries
Whole, in-shell peanuts with no salt or flavoring
Unsweetened breakfast cereal, such as Cheerios
Raisins, soaked in water to soften
Stale or toasted whole-grain bread (to get extra fancy, use cookie cutters to create fun shapes)
To put together the garland cut your string to length. One long garland works, but smaller swags will be easier to string and will not create a possible entanglement issue once the food has been consumed. Smaller sections will also make replenishment easier. Separate your chosen foods into individual piles or bowls, discarding any pieces that are broken or cannot be strung. While the birds won't care what the garland looks like, you may want to be more particular in your approach to stringing to create an attractive display. String treats in a festive pattern, alternating berries with popcorn, for example. Coordinate colors, shapes and textures to create visual interest. Try using flexible wire instead of string and shape it into a wreath or a heart or star shape for a rustic aesthetic. Hang your garland in a tree. Drape it over a feeding station. Both options guarantee birds will discover their treats quickly. You could also swag a garland on a porch railing or around a deck, from eaves or gutters, so birds can perch and enjoy a snack.
A Festive Tree with Edible Ornaments
Decorate a tree with edible ornaments to share the spirit of the holiday season with your wild bird friends. The more you decorate, the more types of birds you will attract. To start, you will need to pick a tree. You'll want a tree with lots of horizontal branches that are widely spaced to accommodate ornaments and will allow enough room for birds to feed. An evergreen will offer shelter and protection from snow, but let's be honest, the birds are not going to be picky, they're coming for the food. Keep in mind that if you plan on spending some time bird watching, you should choose a tree that is easily visible from a comfy spot in your house. It is also a good idea to choose a tree that is near feeders or one that birds tend to regularly perch on. You could also use a potted evergreen, a large upright branch, or even an artificial tree. Hang ornaments using small lengths of string or twine. The birds may eventually recycle it to insulate their roosting area, or hoard it for nesting material in the spring. Again, avoid fishing line and very thin thread as it can be a tangling hazard. Some ideas for edible ornaments for your tree include:
Small suet balls or cakes or little mesh bags of suet
Pine cones covered in peanut butter and rolled in birdseed
Strings of fruit – same as the garland suggestions above
Dried sunflower heads or stalks of dried millet & other grains
Strings of plain popcorn or Cheerios
Whole apples or pairs
Birdseed ornaments – can be store bought or you can make your own.
Decorating the tree can be a fun activity to do as a family. Start early as it may take a few days for your neighborhood birds to discover this new snack spot. Prepare extra ornaments to replace all winter long because once word gets out, you'll likely have a crowd.