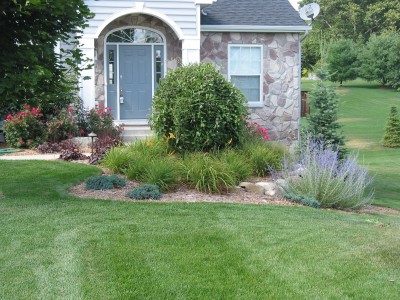 An alluring, properly maintained lawn enhances your property's curb appeal and, more importantly, raises its value. A recent study by one of Virginia Tech's horticulturalists has shown that professionally landscaped homes consistently have an average value that is 9.1% higher than their unmaintained counterparts. At Naylor Landscape Management, we're here to tell you: you can increase the value of your property. In this post, we're going to give you a few tips that will raise your home's value and enhance its beauty.
Plant some trees
Not only are trees wonderful in their own right, they provide a bevy of wonderful, tangible advantages. Whether they're saving you money on your air conditioning bills by providing shade, protecting your home from frigid winter winds or reducing storm runoff by soaking up water before it reaches the water table, trees are beautiful, functional and their very presence increases your home's value.
Install outdoor water features
Who doesn't love the sound and visual beauty of running water?  Especially after a long day… something about reclining back in a lawn chair, unwinding beside a stone waterfall with a cool beverage in hand just seems right. Not only that, but water features obscure annoying sounds and attract wildlife like butterflies, ducks and deer. At Naylor Landscape Management, we can help you find the perfect, affordable landscape design that incorporates any number of water features.
Keep your lawn maintained
A well-maintained lawn tells the world that you care about your home's appearance and condition. Keeping those trees pruned and those shrubs trimmed looks great and raises your property's value. If you find there's just not enough time in the day to keep up with your lawn's requirements, Naylor Landscape Management is more than willing to sit down with you, work out a schedule and keep your lawn and landscape in top form.
Here at Naylor Landscape Management, we've been in the business for more than 30 years. We've got the experience and training necessary to make your lawn beautiful. Whether you want install a water feature or you're looking to plant a garden, our experts have the training and experience necessary to turn your lawn into a sanctuary.