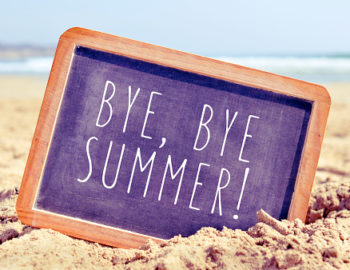 We are now approaching the end of August, which means summer is almost over. Put those shorts and flip-flops away and dig out cozy sweaters for chilly temps. Your wardrobe aside, it's also time to turn over your summer yards and prep for fall. In fact, late summer is a great time to get outside and enjoy the last gardening-worthy months before autumn truly sets in. Take some time in the next two months to take care of these little projects to ensure your lawn and landscape are ready to weather the winter before making a fresh start next spring!
Aerate your lawn to improve turf growing conditions and to develop a healthier stand of grass. Healthy grass crowds out weeds and requires less herbicide use. This is a great time to topdress and overseed or slit seed bare or thin lawn areas caused by the summer heat and lack of rain. Do this in combination with the aeration.
Remove diseased leaves from garden beds, so the disease doesn't spread to other plants. The best way to dispose of the infected leaves is to put them in a plastic bag and drop it in the garbage. Composting diseased leaves could spread the disease to other plants in your garden.
Light it up! Landscape lights are a great way to add curb appeal to your home. And since it will start getting dark sooner, the lights will help ward off those gloomy afternoons, light pathways and outdoor living areas to extend the season and enjoyment of your outdoor dinners or parties a wee bit longer.
Fertilize (again) in the fall. It will give your lawn an extra boost going into the winter months. The grass will store the nutrients for healthy root development. The best time for a late fall fertilizer application is two to three weeks before the ground freezes.
Plan out your fall or spring landscaping projects before the snow flies. Do you need more shade or privacy? Do you want to bring wildlife like birds and butterflies to your garden? Do you want to add an outdoor living area or increase the size of your current outdoor entertainment space? Plan now in case you need help with some of the work. Landscaper's schedules book up quickly.
If you're really ambitious, start thinking about where you want to plant spring bulbs. You can plant bulbs from September until just before the ground freezes. The garden centers are stocking up on bulbs now. Shop early to get the best selection.
Check soil moisture level of trees and shrubs. Stick a screwdriver 6" down into the soil near the plant. If the soil is wet, don't water. If the soil is dry, water. New plants need regular watering during the first year or two of establishment. Even in the winter! Just make sure you don't overwater. The symptoms of underwatering and overwatering are the same – the plant wilts.
More ideas!
Talk to your neighbors. Schedule a neighborhood clean-up day and share tools and equipment with each other. Ask an enterprising young kiddo to set up a lemonade stand.
Contact Naylor Landscape Management to ask for our experienced advice or let us know what project we can assist you with before fall approaches!
We would be glad to answer any questions you may have regarding your lawn or landscape needs! Call us for more information and a consult! #FallIsComing #NaylorLandscape