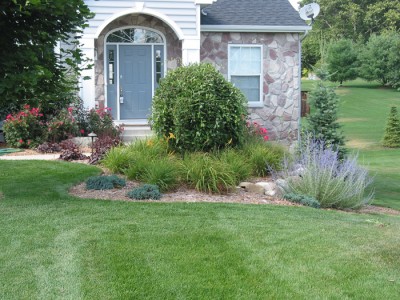 Many homeowners are trying their hand at landscaping in Kalamazoo, and we don't blame you. Everybody wants to save where they can. However, the DIY approach to lawn maintenance is not so hot. We've seen too many ragged lawn perimeters and spans of patchy brown grass. Let us help!
We know you're chasing down that lush look of green, flourishing grass and a beautifully sculpted landscape design. Naylor Landscape Management is, too! We are passionate about streets and neighborhoods that look fabulous and, more importantly, feel great for homeowners. Your children play and your pets jaunt around in the yard – it should be soft, full, and flawless. Those lawns you covet, however, are very nearly always done by a hired professional.
Why Go Pro? Consider these 6 reasons as serious motivation to hand over the hassle.
Knowledge. We are trained in the latest techniques and innovations in lawn care. Led by experts in horticulture and individuals who are passionate about landscaping, our professionals know what to do and can offer expert advice about your lawn. Many homeowners manage their lawns with mowing alone, due to a lack of knowhow. We can remedy that.
Labor. Truly comprehensive lawn care is a lot of work! Don't break your back in avoidance of breaking the bank. Landscaping services cost far less than you might assume, and infinitely less than injuring yourself after a week's worth of work. This is our life's work. Let us do it, so you can get back to enjoying your weekend.
Convenience. You're a busy individual. Don't let lawn care limit your free time.
Cost. Surprisingly, lawn care SAVES you money. Consider the upfront cost, plus maintenance and storage, of lawn care equipment. Perhaps you own a lawn mower, and that's a great start, but our fleet of equipment is far more comprehensive. Don't invest in all that; we already have!
Climate. Kalamazoo has a testy climate during parts of the year. Let us bear the elements so you don't have to!
Safety. Lawn care can be hazardous. Much of landscape maintenance requires tampering with blades and other dangerous tools. Stay safe and let the pros take over!
Your lawn may not look as verdant as you would prefer. If your lawn is lackluster and in need of nurturing, turn to our skill and experience at Naylor Landscape Management. Add to the value of your home and the quality of your outdoor experience without the hassle and hazard of DIY lawn management. Contact us for a free evaluation today.