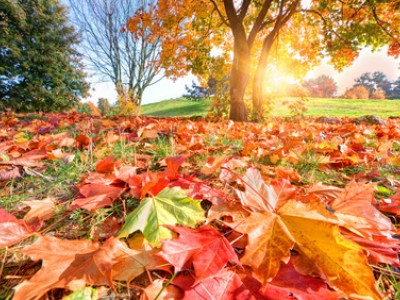 Autumn can be an exciting season around here as the leaves turn color, the air and the apple harvest turn crisp, and the college football season is in full swing. It's really no surprise that many people say autumn is their favorite season.
Yet there's a reason why this season is also called Fall. Falling leaves and falling temperatures are the harbinger of autumn's dreary end as it slogs into winter. If you have a lawn, particularly if you have a large lawn and yard space, you know what we mean. If you do it yourself, the fall cleanup of your yard can be a hard, chilly chore. Yet if you don't do a proper fall cleanup, come spring your yard can be a mess.
Except you don't have to do a fall cleanup of your lawn and landscape. That's our job here at Naylor Landscape Management.
If you still need Naylor to do your fall cleanup, it's not too late. But call us soon. Our schedule is filling up. If you already have our cleanup service as part of our lawn and landscape maintenance program, here's what to expect.
Naylor will perform yard cleanups on a timely schedule to mesh with municipal leaf collections where applicable. Our schedule will take into account the rate of falling leaves, the weather and contractual obligations. During the cleanup, we will remove leaves and debris from your lawn and garden beds, cut back your perennials and remove annuals.  We will also mow your lawn short one last time before winter sets in.  Our crew will place leaves and yard debris at the curb for city collection or haul it away with our leaf vacuum.  If you have a woodlot or field, we can also spread the leaves there to recycle nutrients back to the land.
For homeowners who already have a lawn maintenance schedule with Naylor, we will continue to mow your lawn as needed after October, but not necessarily weekly.
Remember, if you haven't contracted with Naylor to do your fall cleanup, call us now before it's too late. And when you do call, you might want to ask about our snow removal service once winter comes around.
Photo credit: flickr