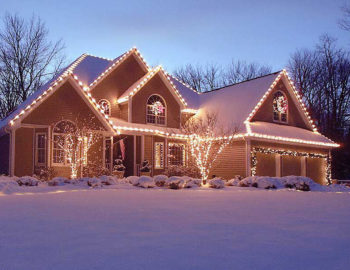 We know your carved pumpkins are still on the front porch, and that you are just beginning to ponder the tablescape for Thanksgiving dinner, but have you looked at the calendar lately? That most wonderful time of the year is heading our way, and it's only a matter of weeks until it's Christmas!  Too early to think about it you say? You're right, unless, of course, you like to decorate your house a'la Christmas Vacation—or even something a bit more subtle. In that case, it's time to at least come up with a plan, and as always, we're here to help.
Holiday lighting and décor can seem overwhelming, so where do you start? Here are a few tips to get you headed in the right direction.
Check out your options:
Holiday lighting is available to illuminate every tree, shrub, nook and cranny of your home and yard. Take the time to visit your local Home Improvement Store to get yourself familiar with what's available. Rope lights, net lights, icicles, ground and stake lighting; you name it, it's out there.
Make safety a priority:
Those strands of lights should be designed specifically for outdoor use, and should have the UL (Underwriters Laboratories) label. Use a sturdy ladder and enlist a helper when hanging lights up high.
Check your lights before hanging:
Test light strings for burnt-out bulbs and replace before installing.  Burnt-out bulbs can drain power from the rest of your light string, making the lights dimmer. 
Don't go overboard:
Sure you want your home to dazzle the neighbors and passersby, but be careful not to overload your circuits. You should aim for no more than 1400 watts on one circuit. A sign you've gone too far? The lights in your house dim when you turn on the holiday lights!
Lights off:
Turn off your outdoor lights when you retire for the night and when you are not home, or install a timer to take care of this for you.
---
If your inner Clark Griswold needs a rest, give us a call.  Naylor Landscape Management is an authorized dealer of Christmas Décor, a national company that's been installing outdoor holiday lighting and decorations since 1986, and authorizing franchises since 1996.  We don't mean to brag, but turns out we're pretty good at this holiday decorating stuff, being a four-time winner of Christmas Décor's Midwest Franchise of the Year Award.
We have a friendly, trained staff that can provide professional design consultation to make your winter wonderland vision come to life.  They also take care of the installation and take down of your outdoor lighting and décor.  Give us a jingle, and we'll make sure to add you to our schedule.
Whether you approach your outdoor holiday décor as a DIY project, call us in for reinforcement or a combination of the two, we want you to enjoy your seasonal landscape. After all, there's nothing that says holiday quite like the twinkle of lights on a crisp winter evening.
Sick of untangling all the exterior lights? Drop us a line, we'll take care of designing, installing, removing and storing your outdoor décor.