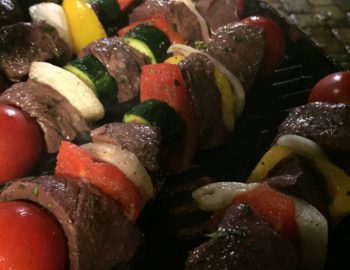 You probably don't know that our founder, Barney Naylor has quite a knack for grilling. Rumor has it that many of the best kept recipe secrets in the world can be found on his BBQ. Our monthly feature on the #NaylorBlog isn't just for the grill-savvy chef but also for those who are just starting out!
Ingredients
2 ½ lbs. sirloin cut into 1 ½" to 2" pieces
A variety of vegetables that you like to grill and that skewer easily (cut into 1½" to 2" pieces—or use whole such as small tomatoes and mushrooms). We used zucchini, Campari tomatoes, red and yellow bell peppers and sweet onion.
1 cup dry red wine
¼ cup lemon juice
½ cup olive oil
3 or 4 juniper berries or 2 or 3 sprigs rosemary
A sprig of parsley
A sprig of thyme
2 bay leaves
1 to 2 crushed cloves garlic
A pinch of nutmeg
1 tablespoon sugar
1 teaspoon salt
A dash of hot pepper sauce
Tools
8 bamboo skewers soaked in water for an hour before grilling.
A large bowl or Ziploc bag
A grill (our preference is the Weber Q)
Directions
Add sirloin to marinade, cover or seal and refrigerate for at least 4 hours up to overnight.
Remove sirloin cubes from marinade and dispose of excess marinade. Put sirloin and cut vegetables on bamboo skewers alternating between vegetables and sirloin.
Heat grill to medium high. When grill reaches appropriate cooking temperature, put kebabs on grill. Cook for two minutes then turn to cook other side. Rotate kebabs four times (4 sides, every 2 minutes) and cook for a total of 8 to 10 minutes for medium to medium rare.
This was adopted from a Lamb or Game Marinade Recipe in The Joy of Cooking, which was given to us as a wedding gift 28 years ago! It is well-loved, well-worn and our  "go to" cookbook for many occasions. My hunting buddies even love this marinade for venison and elk roasts!