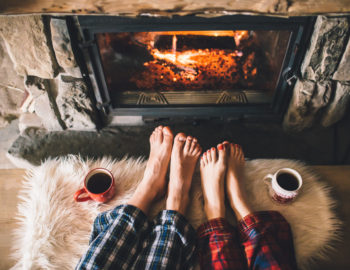 Winter is coming, and not just in the fictional Westeros of Game of Thrones fame, but right here in Western Michigan. Cold weather. Blustery Wind.  Piles of snow outside your door. We don't know about you, but these shorter days and longer nights don't exactly inspire us to get up off our comfy couch and do much of anything. But this time of year does have its advantages. Really. So shake off that primal urge to hibernate and get inspired to make the most of the season. Here are a few ideas…
1. Bundle up in your thermals and trapper hat (you know, the one with the ear flaps) and head outdoors.  Fresh air and sunlight does a body good. Release that inner child and play in the snow! Go sledding. Make snow angels. Build a snowman. Stage a snowball fight with the family across the street.
2. Take up a winter sport. Skiing, snowboarding, skating, or hockey to name a few.  Exercising in the winter keeps you from feeling depressed and gets that blood pumping. It's a proven stress reliever. If nothing else, take the dog for a walk. Fido needs the exercise too.
3. We all know that the best part of spending some time out-of-doors in the winter is coming back inside. Warm yourself from the inside out with a cup of hot cocoa or spiced cider. Enjoy your warm drink in front of a blazing fire wrapped in a cozy blanket. Light some candles for an ambient glow and pleasing fragrance.
4. It's a great time of year to socialize. Invite friends over for some good company. Strike up some friendly competition playing board games. Pop some popcorn and have a movie night. You can even just get together for some stimulating conversation around the table while enjoying your favorite comfort foods. Chicken pot pie and beef stew are sure favorites.
5. At the end of the day, be sure to snuggle up in your warmest PJ's. Better yet, toss them in the dryer for a few minutes for toasty experience. Curl up in your favorite chair and cross a title off your reading list. Allow yourself the luxury of sleeping in every once in a while.
6. If all else fails, you can always plan a getaway to a warmer climate to chase the chill away!
Keeping your body active and your mind engaged in the colder months is crucial to your well-being. Seek out activities that you enjoy doing. Tackle indoor projects now and you'll have more time outside when the weather turns.  We promise, spring will be here before you know it.