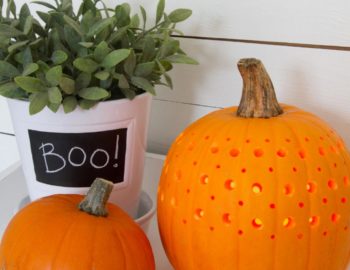 Ready for a season of frightful, friendly and fun outdoor decor? October 31st is just around the corner, so we've gathered together some great Halloween decorating ideas. From pumpkins to porches to snacks, from the sophisticated to the spooktacular, let us inspire you to get into the spirit of the orange and black!
The Greatest Pumpkin
In the good old days, it was simple. Outdoor decor consisted of heading to the pumpkinpatch or the grocery store and pick out a pumpkin. You would take it home, and using just a few simple tools—like a magic marker and a not so kid-friendly kitchen knife—you would get to work creating the perfect jack-o-lantern. These days, decorating pumpkins has gone way beyond the basic. There are virtually endless possibilities when it comes to decorating your ultimate jack-o-lantern. It's time to up your pumpkin game. Here a just a few suggestions to get your creative on (many with no carving required):
Chalkboard paint is all the rage these days. Spray paint your pumpkin—real or faux—and then use chalk to create a pattern, a scary face or a fun message. Get the tutorial here from Simple DIYs. Easy and impactful!
Instead of going at your pumpkin with a knife, try using a drill. Use your imagination to create a unique design, then illuminate from within with a battery-operated candle. This easy to follow video from HGTV Handmade will show you how.
If you're into crafts or have kids (or both), chances are you have washi tape—lots of it! Use it to spruce up a plain or spray-painted pumpkin. This one is both fool proof (if you don't like the way it turns out, gently peel the tape off and start over) and doesn't involve any sharp objects. A great project for little ones.
Are you a candy corn fanatic? Choose cone-shaped pumpkins, spray paint the top third white, leave the middle orange and spray paint the bottom yellow. Viola—your pumpkin is now your favorite Halloween treat.
If you prefer things on the fancy side, a beautiful lace or sparkle pumpkin may be right up your alley. This quick and easy tutorial will teach you the basics. Adding extra embellishments to put your pumpkin over the top is up to you!
Try seeing things from a different perspective by turning a pumpkin on its side. Use the stem as a nose and create a crazy face by carving out eyes and a mouth.
Are you all about tradition of pumpkin carving? You can turn ordinary into extraordinary with a huge selection of free printable pumpkin carving templates found here from The Pumpkin Lady. Browse the huge selection, pick your favorite, print and carve. There is even a video to give you all the tips and tricks to do it right.
Outdoor Decor…Ideas for Your Enchanting Entrance!
Up the ante of your haunted mansion's entrance with these outdoor decor ideas:
Treats for your Tricksters
Now this has nothing to do with outdoor decor, but let's be honest—candy is the best part of Halloween! These ghoulish goodies are guaranteed to please as well:
These ghosts in the graveyard individual desserts are sure to hit the sweet spot. Short on time? You can skip the homemade mousse and ghosts, substituting pudding cups and cool whip instead.
This pumpkin dip is devilishly delicious served with gingersnaps, vanilla wafers or animal crackers. The hollowed-out pumpkin will earn you style points, for sure. You can also use a larger hollowed-out pumpkin to serve some witch's brew. Simply make your favorite punch recipe and add a chunk of dry ice to create a mysteriously steamy effect.
Everybody loves Chex Mix, especially when it involves chocolate, peanut butter and powdered sugar! Follow this easy recipe or feel free to make it your own by adding your favorite selections from the Halloween candy aisle.
If you feel the need to add some protein to the sugar fest that is Halloween, these walking mummy dogs are just the ticket. A few simple ingredients and you can call it dinner.
Grab a couple of our ideas and sprinkle them in amongst your favorite Halloween traditions and get ready for the most fa-boo-lous October 31st ever!
Although we enjoy Halloween DIYs, decorating and LOVE to help with projects, these aren't really up our alley. So, this post is just for fun! Now, if you want to ante up the decor for Christmas, we have you covered!