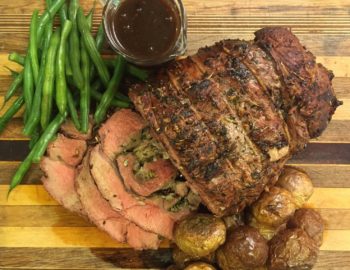 You probably don't know that our founder, Barney Naylor has quite a knack for grilling. Rumor has it that many of the best kept recipe secrets in the world can be found on his BBQ. Our monthly feature on the #NaylorBlog isn't just for the grill-savvy chef but also for those who are just starting out!
Take a look at what Barney whipped up for this week's Christmas SPECIAL EDITION. Once you try it, let us know what your crew thought…and stay tuned for next month's #WhatsOnBarneysBarbie.
Grilled Lamb with Green Peppercorn Port Sauce
Marinade
Zest of one lemon
Juice of one lemon
1T honey
3 t oregano
2 t Rosemary
1 t thyme
2 t kosher salt
1 t ground black pepper
6 to 8 cloves garlic chopped
1/3 cup olive oil
1/2 cup dry red wine
Mix marinade ingredients together and let it sit until meat is ready for marinating.
Preparing the Meat
Prepare leg of lamb, typically 9 to 11 pounds by first removing fat cap and skin from top of lamb leg with a sharp carving knife. With sharp paring knife then cut out lamb bone and butterfly leg of lamb so it is approximately 1 to 1 1/2 inches thick all the way across and is in one piece. Save lamb bone and fat cap to make a lamb stock. Place lamb and marinade in a 1 gallon Ziploc bag and marinate for 2-3 hours. After marinating remove lamb from marinade and roll lamb and truss with cotton string and half hitches to hold together as a roll. It should look like a lamb log when fully trussed.
Prepare charcoal or gas grill with an indirect fire and the heat of approximately 325° with a water-filled drip pan below. After fire is ready, place the lamb roll in the middle of the grill rack. I like to add water soaked oak wood chips to my charcoal fire at this point and close the grill (I prefer just a light smoke with this recipe and only add the wood chips for the first 20-30 minutes of cooking). I usually do it right at the start and additional chips one more time after the lamb has been cooking for 15-20 minutes. If you prefer a more smoky flavor, add wood chips again when you turn the lamb. Rotate the meat after approximately 40 minutes of cooking. If you started off with approximately a 10 pound leg of lamb before removing the bone and fat/skin cap, the total cooking time should be approximately 1 hour and 10-20 minutes or until internal temperature reaches 140° (for medium rare). Remove lamb from grill and rest for at least 10 minutes prior to slicing and serving with port peppercorn sauce.
Potatoes
While the lamb is cooking, prepare small roasting potatoes by placing approximately 3 pounds of small roasting potatoes in a large bowl and season with 1 to 1 1/2 tablespoons of olive oil, one and a half teaspoons of salt and half a teaspoon of fresh ground black pepper. Toss in a bowl until all ingredients thoroughly coat the potatoes. Place potatoes and large shallow cookie sheet and roast in preheated oven at 375° for 45-50 minutes or until potatoes are tender and inside and have a nice crunchy skin on the outside. If you have enough room on the grill, you can forget the oven and opt to cook the potatoes in a roasting basket or directly on the grill grate. Move and rotate potatoes pan every 10 minutes while cooking so they brown evenly.
Next, prepare the port green peppercorn sauce to serve with the lamb while the lamb and potatoes are cooking.
Green Peppercorn Port Sauce
3 T Sugar
1/4 cup red wine vinegar
1.5 Cups lamb or beef stock
1 T butter
1/4 cup Ruby port
1/2 to 1 teaspoon cornstarch
1 teaspoon green peppercorns packed in water crushed or dried green peppercorns crushed
1/2 teaspoon ground black pepper
Bring vinegar in and sugar to a boil, stirring once to dissolve the sugar and cook until it caramelizes. Whisk in lamb or beef stock and simmer for 10 minutes & set aside. In a skillet pan, melt 1 tablespoon butter and quarter cup Ruby port. Bring to a boil and reduce to a glaze on medium high heat. Whisk in lamb or beef stock mixture and add green peppercorns. Add quarter to a half a teaspoon ground black pepper. Bring to a boil and reduce mixture by half (this will take 7 to 10 minutes). Make a slurry from corn starch with a small amount of water and add to sauce to desired thickness. Bring back to a boil and simmer for 2 to 5 minutes.
Serve port peppercorn sauce with the lamb, potatoes and steamed vegetables. This sauce is very delectable and you may want to make a double recipe. It also goes well with roast pork, beef and steaks.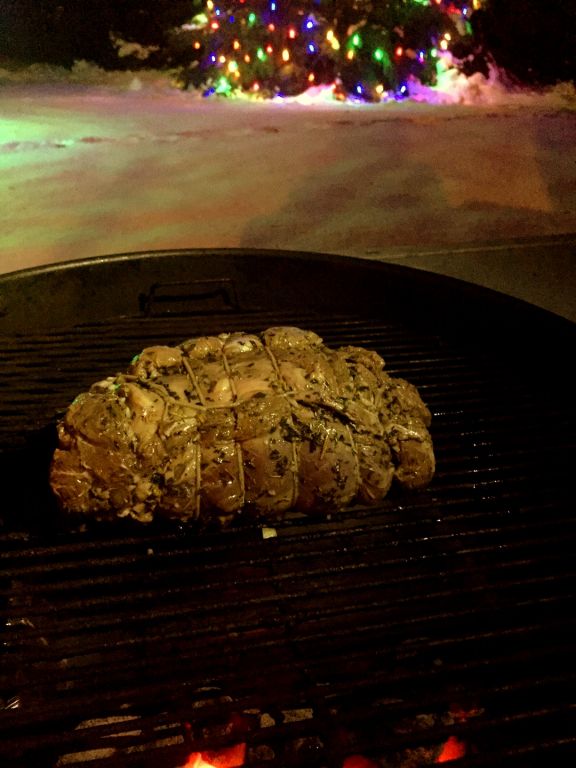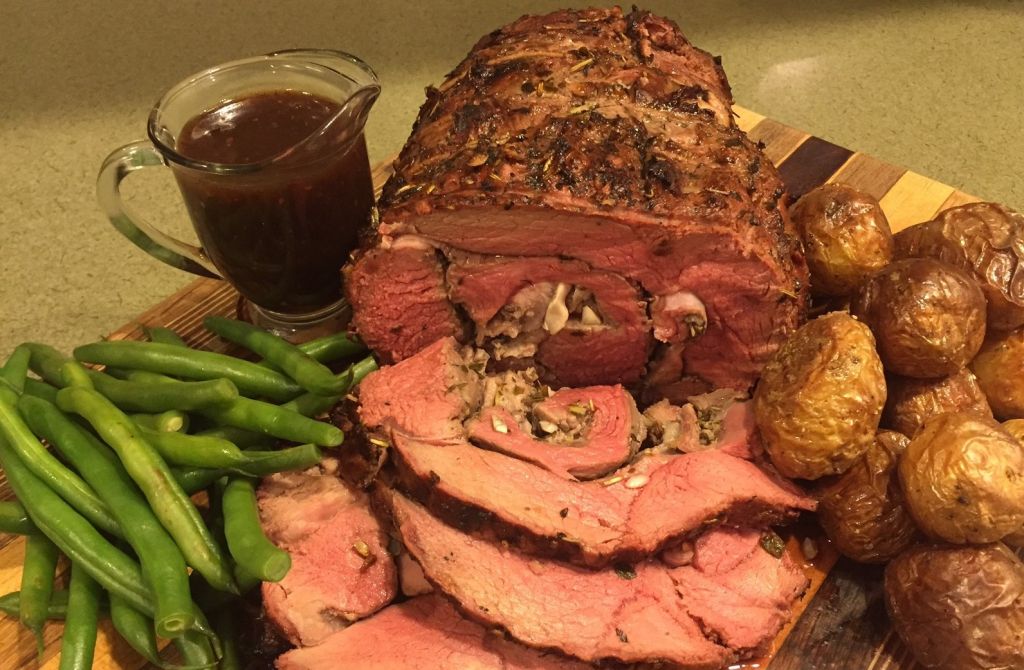 ---
About Barney
Barney Naylor is the Founder and President of Naylor Landscape Management, Inc. He started the business in 1982 while attending Western Michigan University. After earning a Bachelors Degree in biology, he decided to make the green industry a permanent career.
Barney is a Michigan Licensed Pesticide Applicator and Certified Trainer and a Certified Green Industry Professional (CGIP). Barney is actively involved with the Homebuilders Association of Greater Kalamazoo, Kalamazoo Valley Chapter of Trout Unlimited and Southwest Michigan Landscape Association (SWMLA) & National Association of Landscape Professionals (NALP).
He is an avid fly-fisherman and enjoys gardening, hiking, camping, biking, cooking and traveling. Barney lives in Kalamazoo with his wife, Judy.