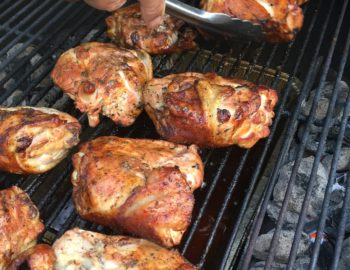 You probably don't know that our founder, Barney Naylor has quite a knack for grilling. Rumor has it that many of the best kept recipe secrets in the world can be found on his BBQ. Our monthly feature on the #NaylorBlog isn't just for the grill-savvy chef but also for those who are just starting out!
Ingredients
10 chicken thighs (or any chicken cut you like)
1 finely chopped stalk of lemongrass (white part only)
3 garlic cloves (pressed)
4 T. apple cider vinegar
3 T. sweet chili sauce
2 T. fish sauce
2 t. Sriracha hot chili sauce
Mix all ingredients together (except chicken) in a small bowl.
Heat grill to proper temperature.
Put chicken on grill and brown both sides (approximately 10 minutes per side with cover on grill).
Once both sides of chicken are browned, baste top side with Thai BBQ mixture. Cook covered for 5 minutes then flip chicken over and baste other side with BBQ mixture. Continue flipping and basting every 5 minutes for approximately 45 minutes or until chicken is cooked through. Remove chicken from grill and serve with grilled corn on the cobb or your favorite side dish. 
I just threw the corn on a low temperature grill, in the husk, covered with grill top, and rotated it 1/3 every 10 minutes for about 30 minutes until done.