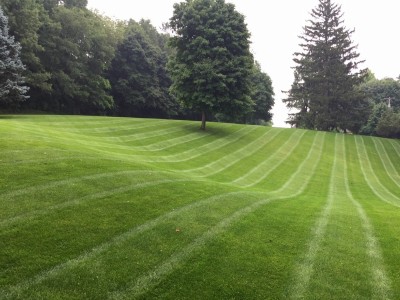 After much deliberation, you've finally decided to hire a professional landscape management company to help you put your lawn in order. Like most savvy shoppers, you've started researching, weighing the pros and cons and narrowing down your options. But, what's really important in a lawn care service? What attributes are going to make the biggest difference in the quality of your lawn care? In this post, we'd like to look at a few things that you should look for when shopping for residential landscape services.
Reputation
The first thing you should do is look into the reputation of your lawn care candidates. Talk with your neighbors and discuss their experiences with local lawn services. Call the company that you are considering and discuss their past work. Additionally, you can check their website for a gallery of their work to gain an understanding of the type and quality of lawn care that they provide.
Customer Service
Lawn care is a people-oriented business. While you may not always be in contact with the professionals performing the work, you need to know that someone will be able to answer any questions that you might have about your lawn's health. By calling the company to discuss your concerns, you can get a feel for their knowledge and understand the level of customer service that they provide.
Experience
You want to work with a company that knows what they're doing. Look at how long the residential landscape management company that you're considering has been in business. Browse their portfolio and read through their blog. Do they establish themselves as experts in the field? Do they have a proven track record of delivering reliable, high-quality service? After you've answered these questions, you'll be one step closer to finding the perfect lawn care service for your needs.
Naylor Landscape Management has provided the best lawn care services to residents of the Kalamazoo area for over thirty years. Our dedication to educating our team in both landscape management and customer service gives us the reputation, experience, and service skills that you need to keep your lawn and landscape lush and beautiful. If you've been looking for a friendly, trustworthy company to handle your lawn care needs, contact us today to learn how we can help!