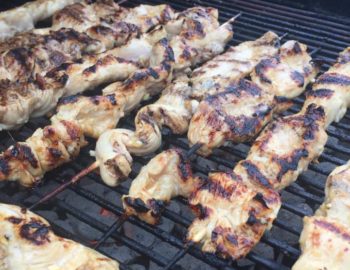 You probably don't know that our founder, Barney Naylor has quite a knack for grilling. Rumor has it that many of the best kept recipe secrets in the world can be found on his BBQ. Our monthly feature on the #NaylorBlog isn't just for the grill-savvy chef but also for those who are just starting out!
Ingredients
3 boneless skinless chicken breasts
3 garlic cloves
¼ t. salt
1 t. ground turmeric
¼ t. freshly ground pepper
½ t. ground allspice
½ t. ground cumin
Juice of 3 large limes
2 T. olive oil
4 T. plain low-fat yogurt
Directions
Cut the chicken breasts into 1½ to 2" strips and place in a bowl. Crush the garlic. Mix the crushed garlic and all spices in a small bowl. Squeeze the limes into another bowl. Add spice mixture, olive and yogurt to the lime juice and mix well. Pour the mixture over the chicken and coat well. Let marinade for 2 to 4 hours, turning occasionally.
Skewer the marinated chicken and grill for 4 to 6 minutes, turning and basting often, until done. Serve with rice or other grains.