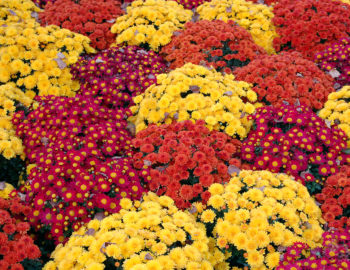 Right about now you are most likely lamenting the fading blooms of your garden and landscape. As summer turns to fall, the colorful, showy blossoms of the last few months have started to lose their luster. Are your container gardens and window boxes looking a little worse for the wear? Never fear, mums are here! Now is the perfect time to utilize these ubiquitous blooms and add a punch of autumnal tones to your landscape. Welcome to Mums 101– everything you need to know about fall's favorite flower!
Varieties of Mums
First things first, let's talk about the different varieties. All mums originated from the same "parent" flower, a golden-yellow daisy-like chrysanthemum from China. Over the years, due to hybridization of many species from China and Japan, there have emerged two categorical types of mums that serve different purposes. Florist mums are large flowered plants used for cutting. They come in many bloom forms such as pompom, quilled and spider to name a few. They are grown in greenhouses and are used as indoor plants. These varieties lack enough underground stolens (also known as runners) that are necessary to survive in the cold. You probably know these florist mums best as the giant, beribboned flowers that are an integral part of any high school homecoming. Garden mums, on the other hand, produce underground stolens, are cold-hardy and can survive winter and thrive as perennials.
When to Plant
If you want to add garden mums to your landscape, the best time to plant them is when the temperature starts to cool off in the evening. Mums have the best chance of surviving winter when planted in September. Just like any other perennial planted in the fall, timing is essential in establishing a strong root system before the first frost. Think about how you want to use color in your landscape. If you are planting mums amongst shrubs or greenery, white, pink, yellow or lavender will really pop. If your autumn decorating includes pumpkins, gourds, cornstalks or hay bales, consider shades of orange, copper, purple and wine. Another tip–darker mums tend to hold their color longer, and as the flowers fade, it won't be as noticeable as on lighter-colored plants.
Planting in your Landscape
You've chosen your plants, now you're ready to integrate those beauties into your landscape. Choose a spot that gets about six hours of sun a day. Make sure to use well-drained soil, or amend heavy or clay soils with organic compost, working it into the ground about eight to twelve inches. Dig a hole an inch or so deeper than the pot they came in. The roots of a mum are shallow and delicate. Spread them out, being careful not to damage them. Backfill, pressing down lightly on the soil to remove air pockets. Be sure to space plants as indicated on the care label. Water thoroughly, avoiding the leaves to help prevent disease. To ensure maximum blooms, take care to not let the soil dry out. Soil should be moist, but not soaking wet. Pinch off any dead blooms as they fade. Before the frost arrives, give your mums a good insulating layer of mulch to protect them from the cold. At this point, you should leave dead or brown stems on the plant for added protection as well.
Planting in Containers
If you just want to add pops of fall color to your great outdoors, garden mums make fantastic container plants. You can easily swap them out with some of those spent summer blooms, putting them into pots or window boxes. Mums look great when paired with other plants, such as grasses or trailing foliage, and are an essential addition to the perfect autumn porch display. How about putting a "mumkin" on display at your entry? Simply hollow out a large pumpkin and place the mum–in its pot–inside. These autumn superstars are easy on the wallet too, so even if you don't plan to add them to your permanent landscape, they are budget–friendly enough to utilize as annuals for the fall season.
It seems everywhere you go this time of year, there are mums for sale. Their bold blooms bring the autumn color like nothing else and are guaranteed to perk up even the drabbest of landscapes. What are you waiting for? Go ahead and pick up a few…you know you can't possibly resist fall's favorite flower!
Need some help deciding where to place your mums? Our team handles seasonal plantings, and we'd be happy to help with your fall flowers. Drop us a line here.