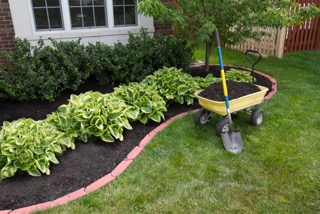 New Years is usually about resolutions to create a new you. This is the year of landscape improvements and therefore, we are going to help you take steps to creating your dream outdoor setting through these New Year's resolutions for your lawn and landscape. We want to help you create a setting that you will enjoy. It's the year to get excited about entertaining your friends this coming summer, and finally feel comfortable hosting the neighbors or your children's soccer team. Start taking steps to building a better landscape today! We will be with you every step of the way by providing services to help you reach your landscape destination…
Resolution 1: I will implement my design landscape ideas to turn my dream outdoor setting into a reality.
At Naylor Landscape Management, we use the highest standards and industry certified landscaping service staff to design and install your landscape. We will carefully create a look in your lawn that complements your home and extends your living space to the outdoors. Our landscaping services include:
Landscape Design & Installation
Lawn Installation / Hydroseeding / Sodding
Tree & Shrub Planting
Perennial Gardens
Retaining Walls
Brick / Stone Pavers & Patios / Walks & Drives
Ponds / Water Features
Outdoor Kitchens / Pizza Ovens
Fireplaces & Fire Pits
Landscape Lighting
Irrigation Systems
Lawn & Landscape Renovation
Arbors / Pergolas
Decks
Resolution 2: I will take time from my busy schedule to relax and fully enjoy my landscape this year.
This is important because we so frequently get caught up in work and family matters and before we know it, another year has passed. Make this year different by resolving to take time for yourself and your landscape! Put up that hammock and spend a day in the outdoors. However, if in most summers you find yourself spending more time managing your yard than enjoying it, our professional services are offered to fit your needs!
Resolution 3: I will stay on top of the weeds growing in my landscape.
Though this is one of the most dreadful landscape tasks, keeping up with eliminating weeds will benefit you and your landscape for years to come. Even though weeds will always grow back, you can keep weeds under control by depriving new ones of the conditions they need to take root in the first place and then removing those that sprout.
This year is the year you finally feel proud of your landscape!
For more information on the services we offer here at Naylor Landscape Management, please visit our website at https://www.naylorlandscape.com/services/ or call us at 269.375.0084. We can't wait to give you the lawn & landscape of your dreams.