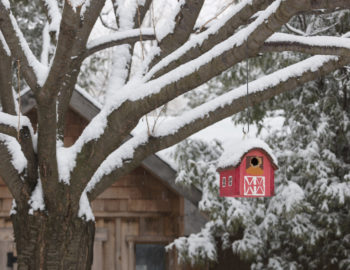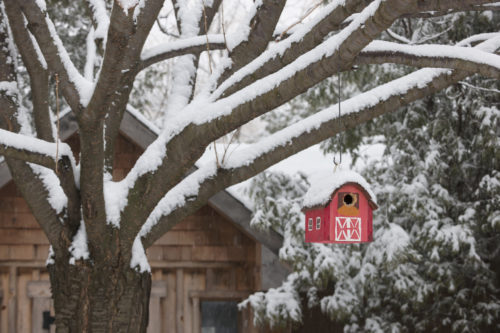 You may be surprised to know just how many of our feathered friends don't hightail it to the south as soon as the cooler weather hits. These true snowbirds stay put to tough out the winter along with the rest of us. Once temps stay consistently cold, it becomes more difficult for them to find adequate food and water. Vegetation, spiders and insects—the main food sources for the avian set—become scarce in the freezing cold. This lack of easily-available food can be detrimental to the bird population. That's where we come in! According to statistics, over 40 percent of the population in the U.S. provides supplemental food for birds. Interested in helping provide your flighty neighbors with much-needed sustenance this season? We've gathered some tips to get you started. You'll also find a fun natural project or two to not only treat your birds, but add some flair to your outdoor landscape.
1. Select a Bird Feeder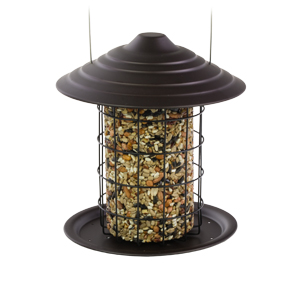 The best type of feeder needs to be sturdy enough to withstand winter weather. It should be constructed well to help keep seed dry and large enough that you will not need to refill it constantly. You may consider using multiple feeders to provide ample food, which is especially important during periods of heavy snow and ice. A plastic or metal option will make clean-up easier than one made of wood. There are a plethora of options available. Check out the variety at a local garden center, or for great advice and information, give this website a try. They happen to have a store conveniently located here in the Kalamazoo area.
2. Choose a Good Location
Bird feeders should be placed in an area that is easy to see and can be easily refilled. They should be placed close to natural shelters to help provide coverage for the birds from wind and predators. Evergreens make a nice option. You will want to keep feeders about 10 feet away from shrubs and brush piles, where predators such as cats could easily hide. Stomp down the snow below feeders, as ground-feeding birds will feast on seed that drops from if they have a clear path available.
3. Provide the Right Kind of Meal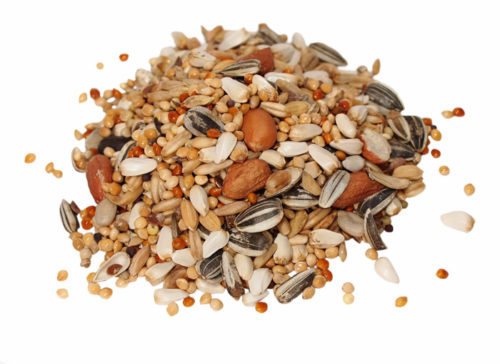 A nutritious food for most birds is a seed mix combining black oil sunflower seed, white millet seed, hulled peanuts and thistle seed. To stay warm in winter, birds need to burn more calories, so offering fatty foods to supplement the carbohydrates in their seed is a must. Suet is a high-energy food composed of fat. Peanut butter is another great option. Mixing some seed in with it will cut down on its stickiness and make it easier to eat. No meal is complete without a refreshing drink, so makes sure to provide water. Unfrozen water can be difficult to come by in the winter. Birds need water not only to drink, but also to bathe in, as having clean feathers provide them the best insulation. A readily-available supply of fresh water could attract birds that wouldn't ordinarily come to your feeders. A shallow, easy-to-clean birdbath is best (bonus points if it's heated to keep from icing over).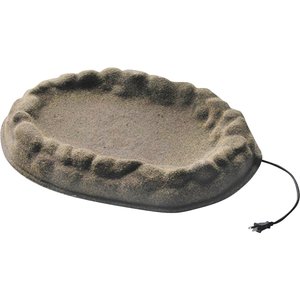 Be consistent with feeding and watering, as birds will become accustomed to relying on your feeders for their meals. Full feeders translate into full bellies, especially during these long, harsh months of winter. If you know you will be gone for an extended time, plan to have someone help you out by filling your feeders.
4. Keep it Clean and Safe
You wouldn't want to eat off a dirty plate, would you? Of course not, so don't expect your birds to either. Clean your feeders every few weeks by scrubbing with soap and water. Rinse well and dry thoroughly before refilling. Clean up birdseed hulls under feeders. Decomposing hulls can harbor bacteria that could spread disease. Keep food storage containers dry and free of mold and fungus. And lastly, periodically check your feeders for safety. Sharp edges could scratch birds, making them susceptible to infection.
Setting up a bird feeder in your yard makes lives easier and more enjoyable for our winged pals to grab a quick and nutritious meal in our cold climate. Providing a feeder, tree or garland helps them to not only survive, but to thrive all winter long.