Up until this point, the State of Michigan classified the Kalamazoo area in an unusually dry condition. Areas northeast of Kalamazoo were in a mild drought.
This weekend's rain left swollen rivers, detention ponds, flooded low spots, swampy streets and even a soaked football field. Through the leaky basements, mud puddles and a rescheduled WMU Bronco game, the good news is that we need the moisture! It will benefit your plants and soil going into the winter. Normally, we average 31" of precipitation each year. With last weekend's rain and over 2 months to go, we are now at 30" of precipitation for the year.
Will it happen again?
Storms are classified by 10, 25, 50 and 100-year storms for storm water design. This doesn't mean a 100-year storm will only occur every 100 years, it means there is a 1% chance that storm will occur any year.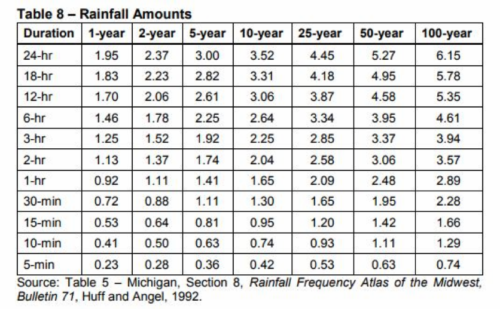 The above table is from a report generated by the Kalamazoo County Drain Commissioners office in October of 2011. The rain from the weekend would be evaluated on the 24-hr duration.  The drain commission requires developers to plan for the 25 year storm.
According to MLive.com, the communities below received the following rainfall amounts during the 24-hour period of October 14, 2017:
Weekend Rainfall
Within a 24-hour period of 10/14/2017
Lawton
8.43"
Portage
6.9"
Oshtemo
6.53"
Decatur
6.3"
Paw Paw
5.7"
Kalamazoo
5.6"
Benton Harbor
4.94"
Battle Creek
4.43"
Jackson
3.23"
Marshall
3.07"
Lansing
3.01"
So, for those in the Portage, Oshtemo, Decatur and Lawton communities there is a 1% chance you will experience another rainstorm event of this caliber. #crazy.
Need some help with clean-up? Drop us a line!