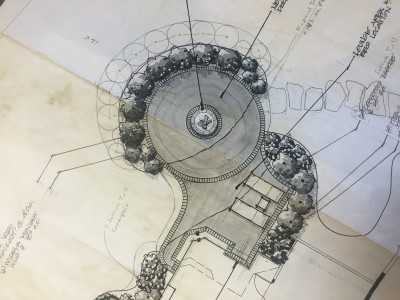 Fire pits are one of the most popular landscaping requests we get! This particular client had a deck that got little use—it was small and seemed to float in the yard. Plus, they had a fire pit in the middle of their yard that they gravitated towards instead. Guests would spread out over 30 feet into the yard around the fire pit. Initially, we wondered why they would need that much space…but it turns out our client is a slight pyromaniac and loves big bonfires! His guests know him well and give themselves plenty of room so the fire wouldn't singe their eyebrows.
The Naylor team came up with a plan to provide a seamless and more private entertainment area that moves from the interior of their home to the deck, and from there to the patio and fire pit. Since the original deck was too small, we increased the size, added a built-in bench for seating and added a planting bed around it for privacy and grounding. The patio begins at the bottom of the deck, includes lounging and grilling areas, then connects to the fire pit space. We added a planting bed to the back side of the lounge area and fire pit area for privacy and enclosure. As we got into the project, the client made a few changes—they eliminated the grilling area, added a path from the front yard to the patio and decided not to do the deck bench seating.
Our client likes burning wood, so this is a wood-burning fire pit (vs. gas). The interior dimension is 35", so he can still build a pretty big fire but it is within the city recreational burning ordinance. We always check the municipality's guidelines before installing your fire pit—we don't want you to get fined, or worse—have to remove it. Remember to add a minimum of 24″ around furniture for traffic flow and an additional 24″ around a dining table to take into account a person seated at the dining table and traffic flow behind them. This patio area around the fire pit is large enough to fit both chairs and traffic flow.
Where'd we get this gorgeous material? Unilock pavers were used for this project. The large square field pavers are Beacon Hill Flagstone (in Sierra), the inside soldier course is Courtstone (in Basalt) and the outer soldier course is Brussels Block (in Sandstone).
The best part about fire pits? Unlike pools and water features, they can be used during all four seasons. Craving a s'more mid-January? Not a problem with a fire pit in your backyard. Stay tuned for part two…the finished product!
---