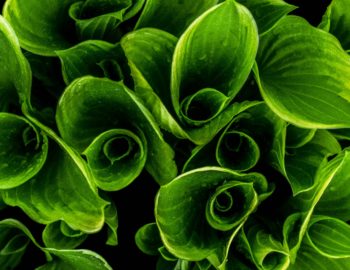 When it comes to the plants we choose to adorn our landscape, there a multitude of options. Walk through any greenhouse or garden center in the spring and you'll be inundated with a variety of plant life guaranteed to make your head spin.
Annuals are the show-offs of the bunch. Utilizing their bright, eye-popping colors and already-full blooms, they practically shout at us, enticing us to fill our carts with the promise of an immediate payoff. Perennials are the shyer sort. Early in the season, they're not the ostentatious type and may have yet to bloom. They whisper to us to lean in and take a closer look…to take a moment, check out their tags and see the promise of what they will become. While annuals are a great choice for containers and a way to add pizazz to your garden, they need to be purchased and planted on a seasonal basis. Perennials are a solid investment that, once planted, will continue to flourish for years to come. Let's take a closer look at these unsung heroes and the advantages of adding perennials to your landscape.
Perennials offer economic value. They are a one-time purchase and can last for several years. Once established, they tend to be low maintenance. Because these plants remain in the ground and grow over successive years, they create deeper root systems that go further into the soil. They can access more nutrients and moisture that tend to exist deeper in the ground. Perennials usually retain some of their foliage over the winter months, providing cover and protecting the soil from erosion from wind and rain. Overall, they require little fuss; less time and effort, less feeding, watering and tending to.
While annuals tend to all bloom during the same time-period (summer), perennials offer greater variety. With various bloom times, you can select different plants to assure blooming through many seasons. Perennials can be planted in the spring or the fall, they really don't have a preference. The first season you'll want to water and weed on the regular, but once established, they tend to take care of themselves…even being hardy enough to survive extremes in weather conditions.
One of the best reasons to grow perennials? They truly are the gift that keeps on giving. Not only do they come back year after year, but you can share the love and the beauty of these plants with others by splitting them every few seasons to create new, viable plants. A quick guide on how to divide and conquer (or check out a step-by-step guide here): 
When digging up a plant, you want to make sure you get as much of the root system as possible. Be generous with the amount of soil you're digging up around it to avoid cutting off any of the root structure.
Put the plant on a tarp and shake off excess soil.
Examine the clump of roots. Try to find a natural separation between shoots. That's where you want to cut, using a sharp shovel, spade or knife. Can't find an obvious spot to separate? Simply cut the plant in half and look again. Don't worry, plants are resilient.
Divide the plant into sections, keeping in mind that each clump should have visible green growth and healthy roots.
Re-plant at the same depth they were originally. Add fertilizer to give the newly-divided plants a nutritious boost and encourage growth.
Divide before plants become crowded, outgrow their space or start to die out. The best time? In early spring when the plant first shows signs of new growth. This helps the new plant's roots acclimated before the heat of summer. You can also divide plants in the late fall, once they have finished growing for the season.
From hostas, salvia, and sedum to asters, daisies and daylilies, there are perennials available for every type of garden. Looking for information on what specific types of perennials to try? Peruse online gardening websites for an endless source of inspiration to spur your creativity. And don't forget to check out your local garden center. As the end of summer nears, it's a great time to find perennials at reduced prices. Get those plants in the ground at least six weeks before the first frost, and you're good to go with a little head start on your spring planting.
Looking for someone to tackle the job for you? Shoot us a note, we'd be happy to make your vision our mission!