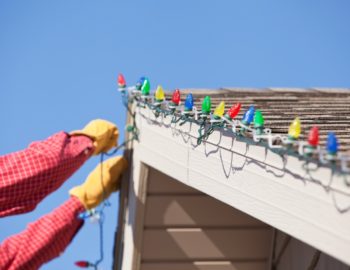 Only use holiday lights rated for outdoor use for the exterior of your home and rated for indoor use for the interior of your home.
Check all holiday lights for damage before you install them. Look for frayed or cut wire and plugs and burned out bulbs. Replace all damaged light strings and bulbs.
Use plastic hooks or tabs to mount your lights. Do not nail, staple or screw through wires.
Don't connect too many light strings and overload your circuits. Check your amp service and note other appliances using the same circuit as your holiday lights. Follow the rules of power. Modern residential circuits are 15 or 20 amps. The max load for 15A x 120V = 1800 watts and the max load for 20A x 120V = 2400 watts before the breaker trips.
Check your wood and metal ladders for cracks, breaks, rot, loose bolts or joints and damaged or loose rungs or missing feet. Make sure all hooks, locks, and ropes work and are in good condition. Do not use damaged ladders. Place your ladder on a solid, level surface. Do not use metal ladders near power lines. Do not stand on the top two rungs of a ladder or shelf, do not reach or lean beyond the rails (keep torso in middle of rails). Do not use a ladder when it is windy. Do not place a ladder in a walkway or in front of a door unless the area is blocked or guarded. Never use a ladder when working alone. Falls are the leading cause of unintentional injury and death. 43% of fatal falls involve ladders.
Of course, Naylor Landscape can help with your outdoor holiday lighting needs. Give us a call today!