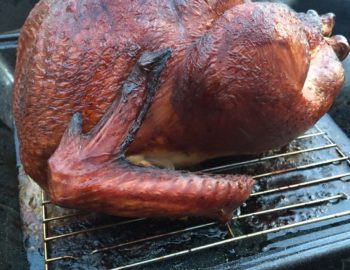 You probably don't know that our founder, Barney Naylor has quite a knack for grilling. Rumor has it that many of the best kept recipe secrets in the world can be found on his BBQ. Our brand-new monthly feature on the #NaylorBlog isn't just for the grill-savvy chef but also for those who are just starting out!
Take a look at what Barney whipped up for this week's Thanksgiving SPECIAL EDITION. Once you try it, let us know what your crew thought…and stay tuned for next month's #WhatsOnBarneysBarbie.
Smoked Thanksgiving Turkey
Brine
In a large stock pot combine:
¼ gallon water
½ gallon apple cider (you will need an additional 2 cups for basting)
4 bay leaves
4 T. rough chopped fresh rosemary
½ T. rough chopped fresh parsley
1 T. fresh thyme
¼ C. rough chopped fresh sage
1 C. kosher salt
1 T. black pepper corns
Bring the brine to a boil and simmer for 30 minutes. Remove from heat and let cool for 30 more minutes. Add ½ gallons of ½ ice and ½ water. This makes 1¼ gallons of brine for a 10-15 lb. turkey.
Place turkey in a tall kitchen bag. Put the bagged turkey in a container large enough to hold the bird, brine and more ice (such as a cooler). Pour cooled brine into the bag. Remove air from bag by twisting and sealing with a twist tie or chip clip so the bird is fully covered with the brine. Leave the sealed turkey in the large container (i.e. cooler) and add ice to cover to keep cold. Let it marinate for 6-10 hours. Remove the turkey from the bag and discard the brine. Rinse the bird off, including cavity, with cold water.
Smoking the Bird
Place brined turkey, breast side down, on a roasting rack on a roasting pan. Stuff the cavity loosely with quartered apples and onions. Place turkey in grill/smoker set at 240 to 280 degrees (F). Cook until internal temperature at thigh joint of turkey reaches 165 degrees (F), which will take about 8-10 hours. At the halfway point (4-5 hours), flip turkey to breast side up and baste one time per hour with apple cider and drippings from the bottom of the roasting pan.
When they turkey is done, remove it from the grill/smoker. Let it cool for 15 minutes, then remove and dispose of apples and onions. After that, it's ready to carve and serve!
Barney's Tips
Retain the drippings for an excellent cider/apple gravy. Deglaze pan with about 1 cup of dry white wine to get the brown bits off the bottom of pan. Add stock to pan as necessary to make your favorite gravy recipe.
I like to use a mild fruit wood for smoking such as apple or pear. You can blend with small amount (25%) of hickory, oak or mesquite too.
If you don't want to smoke the turkey, you can use this recipe and instructions and roast it in the oven.
Throw your favorite Thanksgiving vegetable in a grilling basket with olive oil, salt and pepper and grill until fork tender. We used brussel sprouts. We made a balsamic vinegar reduction and drizzled it on top of the sprouts and topped with a bit of shredded parmesan cheese.
Martha Stewart has a delicious cornbreak stuffing recipe (click here). Everyone raves about it! We use Pepperidge Farm cornbread stuffing instead of making cornbread from scratch.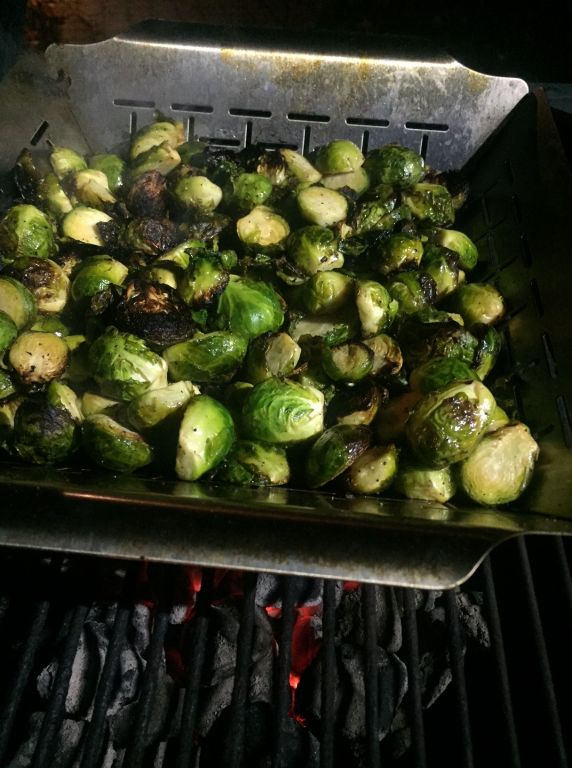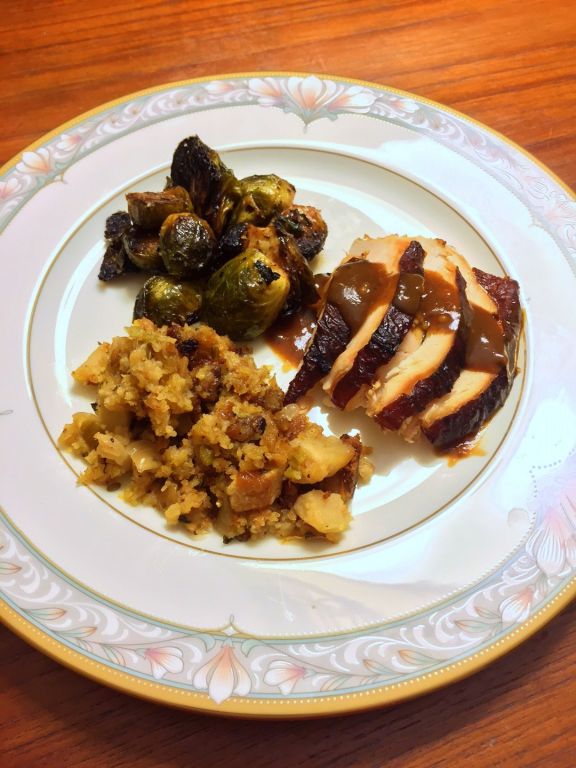 ---
About Barney
Barney Naylor is the Founder and President of Naylor Landscape Management, Inc. He started the business in 1982 while attending Western Michigan University. After earning a Bachelors Degree in biology, he decided to make the green industry a permanent career.
Barney is a Michigan Licensed Pesticide Applicator and Certified Trainer and a Certified Green Industry Professional (CGIP). Barney is actively involved with the Homebuilders Association of Greater Kalamazoo, Kalamazoo Valley Chapter of Trout Unlimited and Southwest Michigan Landscape Association (SWMLA) & National Association of Landscape Professionals (NALP).
He is an avid fly-fisherman and enjoys gardening, hiking, camping, biking, cooking and traveling. Barney lives in Kalamazoo with his wife, Judy.