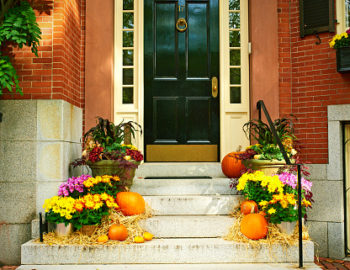 Fall landscaping is the perfect way to lure potential buyers to your front doorstep. There are so many improvements you can make to add curb appeal to your home this season. The first thing that someone sees when visiting your house is the exterior of your home, and you want your home to make a good first impression. Use the tips below to create a home you can be proud of. Grab your tools and get dirty before snow becomes your worst enemy! Here are a few tips to help create curb appeal for your home this fall:
Focus On Your Front Patio and Door
Your front patio is one of the first places visitors see when they come to your home. Since it gives the first impression of your home, ensuring it is clean and welcoming is essential. Choose functional furniture for your patio and add comfort with throw pillows. Select colorful ones to create a cozy setting. You can also add color to your patio with greenery, fresh flowers, and outdoor area rugs. Making your front door the focal point of your home's exterior is a good tactic no matter what season it is. During the fall, a simple wreath of fall foliage and flowers can add an inviting touch. Make your entrance stand out by painting the door a vivid color! If it is warm and welcoming, it will create an at-home feeling.
Keep Your Yard Clean
Once your goes dormant in the fall season, the grass may not need to be cut, but it still requires attention and care. Removing weeds and edging can be done monthly to keep the lawn looking clean. It is important to cut back trees before winter weather comes. It is essential to clean leaves right away. Not keeping up with leaf removal will lead to a blanket of leaves that will in time suffocate your glass and block it from getting sunlight, water, and nutrients it needs to survive.
Add Some Lights
As the days get shorter, it becomes increasingly important to properly illuminate your home. Start by ensuring that all existing exterior lights along the walkway and in front entranceway are working properly. Consider your needs for more light whether it is decorative lights to illuminate walkways or additional floodlights to brighten up entrance areas.
Enjoy The Fall Colors
Add some beautiful fall colors to your yard by planting seasonal flowers. Mums, goldenrod, and fall crocuses are just a few examples of flowers that bloom in the fall, but you can always ask US for ideas about what blooms well in this area. Rubber mulch, pine bark, and rocks are another way to add visual interest and color to your landscape. Keep your lawn watering efforts going as you head into autumn. Summer might be over, but watering will keep your yard as green as possible.
Simple projects can add value to your home, and make it more attractive, better place to live. If you prefer to leave these improvements to a professional, Naylor Landscape Management can help you! We offer ongoing landscape maintenance where we can assist you in any of these areas:
Lawn Mowing
Edging
Spring / Fall Clean Up
Shrub Pruning
Ornamental Tree Pruning
Summer / Fall Annuals (color plantings)
Mulching
Garden Bed Maintenance
Hand Weeding
Lawn Fertilization
Weed Control
Insect / Disease Control
Aeration
Lawn Renovation / Over Seeding
Snow & Ice Management
Tree & Shrub Care
Irrigation Start-ups / Winterization
Irrigation Repair & Service
Landscape Design & Installation
Lawn Installation / Hydro Seeding / Sodding
Tree & Shrub Plantings
Perennial Gardens
Retaining Walls
Brick / Stone Pavers & Patios / Walks & Drives
Ponds / Water Features
Outdoor Kitchen / Pizza Ovens
Fireplaces & Fire Pits
Landscape Lighting
Irrigation Systems
Lawn & Landscape Renovation
Arbors / Pergolas
Decks
Rooflines
Windows
Trees / Shrubs
Ground Lighting
Garland / Wreaths / Bows
Design Consultation
Completely Installation
Proactive Maintenance
Timely Takedown