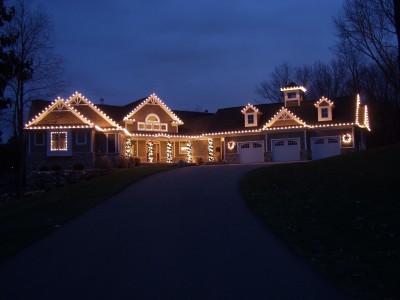 As the summer breezes die down but the leaves have yet to turn, do you know what time it is? It's time to think about outdoor Christmas lighting installation!
No, wait, come back. We're not suggesting that late summer and early fall is a good time for you to start hanging outdoor lights and decorations – though, if you're going to hang the holiday lights yourself outside your home, this wouldn't be a bad time to start. Think about it. Do you really want to be climbing a ladder to hang lights on your home's roof edges during the cold winds and bone chilling rains of November, or worse yet, put it off so you have to put them up in the snow and ice of December? If you're going to hang your holiday lights yourself, you're better off doing it on a sunny, early autumn day.
Or you can just give Naylor Landscape Management of Kalamazoo a call, then go to a college football game instead.
But it's still a good idea to call early. Naylor is an authorized dealer of Christmas Décor, a national company that's been installing outdoor holiday lighting and decorations since 1986, and authorizing franchises since 1996. Naylor is a four-time winner of Christmas Décor's Midwest Franchise of the Year award.
Because we have trained staff who beyond installation and take down of your outdoor holiday lighting also provide professional design consultation, our services have become popular throughout Southwest Michigan. Our schedule fills up by mid-November from home owners and businesses requesting us to hang holiday lights and decorations.
So even if the weather still has you in shirtsleeves on a sunny afternoon, start thinking about the Christmas-time holidays. Think about where you'd rather be on a Saturday morning in early December, relaxing by a warm fireplace as a light snow begins to fall, or up on an icy ladder trying to hang lights along your roofline because you just didn't seem to have time for it before, and you're hosting the holiday party tonight.
Then give Naylor Landscape a call.