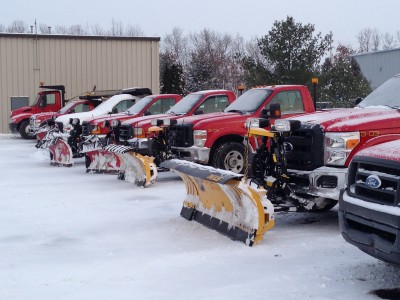 Kalamazoo had its first snowfall of the season on Friday afternoon.  Before you know it, the ground will be blanketed with the white stuff!  Have you lined up your snowplowing contractor yet?
Here are 7 tips to help you hire a qualified service.
1.  Get several estimates.  Service prices are usually based on the size of your drive and whether it is an easy or difficult drive to plow.  The price may vary significantly between contractors due to the equipment used or other services you requested.
2.  What does the estimate include?  Does it include shoveling sidewalks, city sidewalks, steps or porches?  Does it include salting the drive and sidewalks?  When does the contractor start snowplowing?  Does the contractor repair lawn damage?  Will there be any additional charges ?Does the contractor mark your drive with driveway stakes?
3.  Price options.  There are many different pricing options.  Some contractors charge a set price for the season no matter how much it snows.   Others charge a price per plow up to a certain number of inches and charge extra if snowfall exceeds that amount.  Find out how the snowplowing contractor charges for service.  Also ask about their payment options.
4.  Reliability.   Ask for references and check them.
5.  Written agreement.  Get a written estimate with terms and conditions.  A representative should come out to your property to inspect the area, determine any potential hazards or obstacles and determine the best place to pile snow.
6.  What to Expect.  Mother Nature is unpredictable.  Snowplowing contractors like to plow during early morning hours when most people are sleeping.  However, storms can occur at any time.   The later the storm, the more likely they will be slowed down due to traffic.  Heavy snowfall will also delay service because it takes longer to plow more snow.
7.  Scams.  Don't feel pressured to sign up and pay for the  snowplowing service immediately.  A legitimate business will give you all of their business contact information, references and be willing to let you  check references before making a decision.