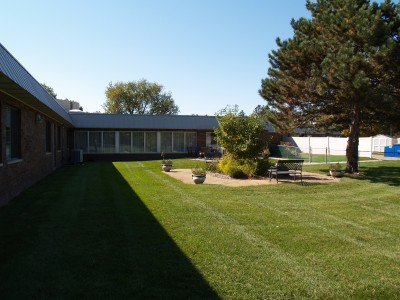 As the summer temperatures reach their highs, it's a good time to start thinking about the steps you can take now to protect your lawn during the winter months. With the first day of autumn falling on Wednesday, September 23, you've got plenty of time to research and prioritize. Today, we're going to look at five tips that – with a little preparation – can help ensure that your lawn comes out healthy and green on the other side of winter.
1. Fertilize, fertilize, fertilize
Strengthening your grass' roots will help give it a solid foundation for growth in the following spring. Early in the fall, it's best to focus on nitrogen-rich fertilizers as they'll encourage blade growth. However, as temperatures begin to drop, a phosphorus-rich fertilizer can stimulate the root growth of your lawn.
2. Keep up on leaf removal
Leaves block incoming sunlight and promote the spread of disease in your lawn. Whether you're a raker, a blower or a mulcher, try to make time every week to remove accumulated debris. Of course, if your schedule doesn't allow it, Naylor Landscape Management provides year-round outdoor maintenance.
3. Improve your existing lawn by overseeding
To keep your lawn thick and healthy and a vibrant green, overseed with perennial ryegrass or a seed blend with at least 50% perennial ryegrass. Ideally the best time to overseed seed is any time during the fall (September 1st to Thanksgiving). Overseeding will help fill in thin and bare areas and add improved turfgrass varieties to tired,  old lawns.  These improved turfgrass varieties have better color and are more disease and insect resistant.
4. Seed those bare and dead patches
September 1st to October 1st (+/- 2 weeks depending on weather) is the best time to spot seed dead and bare areas.  Seed areas of your lawn that are bare or dead from summer heat. By filling in these areas with a healthy lawn it will prevent unsightly weeds from growing there instead. A thick and healthy lawn is your best defence against unwanted weeds.
5. Aerate!
Aerating is the process of perforating the lawn and pulling up soil cores.  The soil cores break down and topdress your lawn with topsoil.  This introduces beneficial microbial activity to your lawn. Core areation allows the microbes to break down dead grass and thatch into valuable nutrients for your lawn.  Aeration also allows air, water and nutrients to reach your lawn's roots. This improves drainage, reduces thatch and loosens soil resulting in a stronger, healthier lawn.