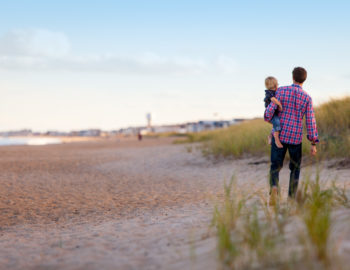 "One father is more than a hundred schoolmasters." – George Herbert. Isn't that the truth? Think about all the things dear old Dad has taught you over the years. The practical things. Mowing the lawn. Driving a car. How to give a great handshake. Doing taxes. And the classic adage "lefty loosey, righty tighty." And then there are the life lessons that we strive to follow daily. Work hard. Give 100% to everything you do. Stand up for yourself. Treat others with respect and kindness. Family matters. This Sunday, June 18th is Father's Day. Time to celebrate the man that has been there from the beginning, filling the pages of your life manual one lesson at a time. Time to gift him with something just as fabulous as he is. Here are a few suggestions:
Yes, you can gift him with something to wear, so long as it's not another tie or pair of socks…
Elevate Dad's golf game and bring out his inner preppy with the ultimate country club-worthy polo. Tee 'em up Here.
Dad will find ways to wear this all year round. Patagonia's lightweight fleece pullover is both time-tested and father-approved. It comes in so many colors and prints you're sure to find his favorite. Get it Here.
A great watch never goes out of style. May we suggest a beautifully crafted timepiece made right here in Michigan. Shinola combines classic style with modern sophistication. The Runwell is their signature piece and comes in many interpretations to fit your father's style. They are a bit of a splurge, but one that will last a lifetime. This Detroit company also offers a wide variety of gorgeous leather goods. Something is sure to catch your eye. Check them out Here.
If your Dad is a grill master, gift him some great tools to up his BBQ game…
These grilling gloves help Dad take the heat and protect his hands while he's slaving over a sizzlin' hot grill. You can even have them personalized (or branded!) in a multitude of designs. Shop Here .
Franklin Barbecue is an iconic spot located in Austin, Texas. Known for the lines of hopefuls that form in the wee hours of the morning to get ahold of some of their ridiculously delicious food, they've been featured on Food Networks "Diners, Drive-ins and Dives". Now their legendary Pitmaster is sharing his secrets in a new cookbook.  Buy it Here.
To help him ensure the meat is cooked the way he likes it, this high-tech bluetooth thermometer is just the ticket. It comes with a meat probe that monitors food from start to finish. Download the app on your phone for recipes and more.  Check it out Here.
A portable grill that can go anywhere, even a tailgate party. The Coleman Road Trip is available in at least one of Dad's favorite team colors. Look for it Here.
Does Dad have a case of wanderlust? He can keep track of his travels on this display-worthy world map that you scratch off to mark the places he's visited. Find it Here. There's also a framed U.S. version that can be personalized, using push pins to commemorate trips Here.
Is Dad constantly on the hunt for his keys, wallet, the remote? Tile Mate is the perfect solution. It's a small bluetooth device that can be attached to any of the things that always seem to go missing. Watch a demonstration of how it works Here.
Surely your Pops could use a little relaxation. It's his day after all. A comfy hammock fits the bill for a little afternoon nap.
Dad still a kid at heart? Perhaps a new "toy" to play with. All the cool kids have 'em… He'd love this drone. Great camera combined with a long battery life equals hours of fun. Take a peek Here
This virtual reality headset is compatible with his smartphone and allows him to play games or explore an alternative universe. Find it Here.
Not sure exactly what you're looking for, but want to make a lasting impression? Check out Man Crates for a huge variety of gifts that span every interest and price range, from beer to bacon to personal grooming to gardening to golf. There are even some DIY kits that are far from ordinary. The best part? Your gift will be packaged in a crate complete with a crowbar to open it or a super cool NATO ammunition canister. And they also sell the most unique gift cards ever if you want to leave the choice up to him.
And just for fun, throw in one of these fun little extras. Consider them the "stocking stuffers" of Father's Day gifts…
Dad jokes never go out of style. Add some new ones to his repertoire Here.
What Dad doesn't like to play cornhole? Here's a tabletop version he can play no matter the weather, available Here.
No matter what you gift Dad with this Father's Day, you know he'll love it. You've always been his favorite child, after all. Like a famous comedian once said, "Fatherhood is pretending you love soap-on-a-rope," so you've definitely got this gift-giving thing covered.