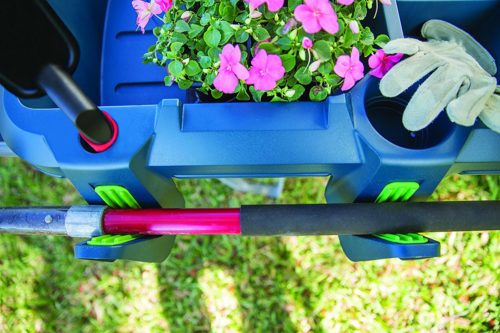 Never fear – our 2017 Holiday Gift Guide is here! Santa Claus is coming to town, so we rounded up a gaggle of great gardening gifts to give. Surely you get to play the role of St. Nick for someone in your life. We've gathered ideas that range from the practical to the whimsical and everything in between. And all of the gifts here are very reasonably priced.
So, make your list, and check it twice – you're certain to find something special for the enthusiastic green thumb on your list.
My Garden Box is a unique, beautifully designed and packaged custom crafted collection of plants and gardening goods for people who love to get their hands dirty. Each box includes everything you need – live plants, containers, potting material and fun accents to create something of which you'd be proud to say, "I made this myself". Think of it as the gardening equivalent of DIY meal delivery services like Hello Fresh or Blue Apron. You can choose a one-time box, subscribe to their plant of the month club, or sign up for a 3, 6 or 12-month prepaid subscription. For fun do-it-yourself living craft ideas and unique plants tailored to the recipient's growing zone, check them out here.
A gardener's knees and back can take a beating. All that leaning over and getting close to your plants can be hard on a body. This portable garden kneeler is a two-in-one design and can be used as both a kneeler and a seat stool. It is lightweight and sturdy, and features two support handles and soft padding for your knees or bottom. It also has a handy tool storage bag to keep your gardening implements close at hand and it folds up for easy transport and storage.
This handy tool does it all! It slices, it dices, it juliennes! Just kidding – but this portable pocket tool does contain a saw blade, knife blade, file, ruler, Phillips and flathead screwdrivers, awl, wrench, shears and a bottle opener. Whew! And all that folds up small enough to carry around in your pocket – great for gardening or even on a camping trip.
Once you get your garden planted, use these copper plant markers to keep track of what's what. These beauties come in either a vertical or horizontal version, are durable and reusable and include a grease pencil for easy labeling. Great for indoor use as well...check out how to use them for a winter herb garden here.
A wheelbarrow is a workhorse for gardening. This Little Burro wheelbarrow tray makes any standard 4-6 cubic foot wheelbarrow even more functional. It can hold 2 short-handle tools, 2 long-handle tools and a tray of plants. It also features 2 drink holders and a water-resistant storage compartment for personal items like a phone, keys or glasses. This lightweight, sturdy organizational wonder is made of a heavy-duty material and will save you trips back and forth as it can accommodate everything you need.
Hunter is known for their stylish, high-quality rain boots...but they also make a mean garden clog. These babies are hand-crafted of durable waterproof rubber and feature a high traction outsole for great grip in loose soil or muddy ground. Functional, fashionable and, most importantly, comfortable.
Gloves are a gardening must-have...and depending on the task, you may need a few different kinds. This pair of garden genie gloves are perfect for digging. Don't be put off by the "As Seen on TV" label. These are made of thick, durable latex, are puncture-resistant and have plastic claws on the fingertips that won't break or chip. Perfect for those digging and weeding projects. These second skin work gloves are made of water-resistant supplex nylon with silicone grips for a steady hand. They are stretchy, form-fitting and offer UPF 50 sun protection. The longer cuff makes them great for all types of garden tasks. For pruning, these leather garden gloves have a long gauntlet that protects arms from thorns and brambles. Made in the US(!) of soft, top grain leather with a suede finish. A great choice for a rose aficionado.
Why not invite some friendly pollinators into your yard to help your garden grow? This bee house, made of long-lasting bamboo attracts pollinating mason bees, a small, non-stinging variety. These industrious insects are master pollinators, visiting 20-times as many flowers as your traditional honey bee.
This indoor wall garden would make a great display for succulents and herbs. The weather-treated wood makes this an outdoor option as well. The three planters can be positioned at different heights and can be hung on a fence or wall. Add a few seeds packets to complete the package.
These fun birdseed owls are a nice gift for the nature lover. They can be hung on evergreens to attract wild birds to visit for a quick snack or can be used indoors as cute Christmas décor.
As long as we're on the subject of small creatures, it's never too early to instill a love of gardening in the younger set. Here are a few items to get little gardeners on their way:
These garden kits utilize familiar childhood stories to get kids interested in growing things. They are available in two varieties – magic beans or princess peas.
Another option is this adorable grow kit. With it, the kiddos can make seed cookies that grow into a butterfly friendly garden. It's a wonderful way to introduce children to planting, growing and tending a garden.
Introduce them to the wonders of what's beneath the surface with this worm farm observation kit. Everything they need, including the worms, to learn important lessons about their role in our ecosystem.
Last, but not least, make it modern with this garden kit. Hydroponic gardening is becoming all the rage. With this kit, kids can sprout and grow seeds without soil. Everything they need to grow two plants is included, along with an activity journal to chart their seedlings progress.
Time to load up your sleigh with a bevy of gifts for your favorite gardeners. With Thanksgiving over, Christmas is only weeks away. Happy Ho-Ho-Holiday Shopping!